20 Hip-Hop Lyrics Showing Love to Grey Poupon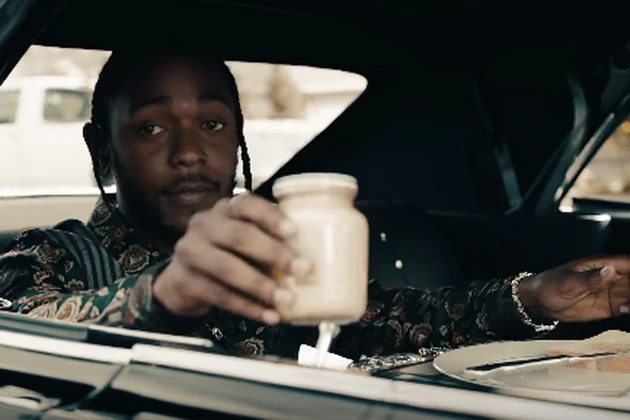 Dating back to the earliest incarnations of hip-hop and rap music, being branded has always been a must, whether it be the clothes you wear, the car you drive or even the food you eat. Brand names like Calvin Klein, Pepsi, Adidas and Mercedes-Benz, among others, have been name-dropped in rhymes, and even had rappers create entire songs inspired by them.
Although music videos help to complete the bridge between the product and consumer, simply being mentioned by a popular rapper can stamp a product and give it cache in the realm of hip-hop, which has been the case with Grey Poupon, your favorite rapper's favorite brand of mustard.
Founded in 1866, after Frenchman Maurice Grey teamed up with Auguste Poupon to form the Grey-Poupon partnership, the company would become a staple in France before the Heublein Company bought the American rights in 1946. Switching hands from RJR Nabisco to Kraft Foods over the years, Grey Poupon would eventually become synonymous with wealth, largely due to the now-iconic commercials from the 1980s, in which a pair of Rolls-Royce cars find common ground over a jar of Grey Poupon.
Soon after, many of rap's biggest stars would allude to their newfound wealth, using Grey Poupon as a status symbol of sorts. As time has passed, hip-hop's love affair with the famous mustard is as strong as ever, with a reference from what is arguably rap's hottest MC at the moment—Kendrick Lamar name-dropped Grey Poupon recently in his hit song "HUMBLE."—serving as a testament to its staying power within the culture.
In light of this connection, we've highlighted 20 notable rap lyrics paying homage to Grey Poupon that truly cut the mustard.
"This that Grey Poupon, that Evian, that TED Talk/Watch my soul speak, you let the meds talk/If I kill a nigga, it won't be the alcohol/I'm the realest nigga after all"
"Fish"
Ghostface Killah Featuring Cappadonna and Raekwon
"Grey Poupon is Revlon rap, smack pawns, swing like batons/Most my niggas smoke like Hillshire Farms/Check the gummy sole, underneath my shoe lies the tap/That attract bow-legged bitches with wide horse gaps" – Ghostface Killah
"Detroit vs Everybody"
Eminem, Big Sean, Danny Brown, Trick-Trick, DeJ Loaf and Royce 5'9″
"26, and I done lived a lifetime a few times/From futons to Grey Poupons/In church, tryna get a little savings, yeah, a coupon/I spit that A1 every day, I'm hittin' new primes" – Big Sean
"I'm not a coward, so fronting on me, I won't allow it/I'm high powered, fucking freak bitches like Adina Howard/Front, get your belly torn, I keep a Pelle on/I'm fucking with Grey Poupon and Dom Pérignon"
"Southside"
Common Featuring Kanye West
"Back in college I had to get my back up off the futon/I knew that I couldn't cop a coup with no coupons/Look at that neutron on his green like croutons/People asking him, "do you have any Grey Poupon" – Kanye West
"18-carat gold pen, when it hits the sheets/Words worth a million like I'm rapping them through platinum teeth/I got the Grey Poupon, you been warned/Cause all beef return well done filet mignon" – JAY-Z
"I'm the baddest, got more fans than Randy Travis/Makes a cowboy, hop, skip, flip back to Dallas/He's the Don, have you seen my Grey Poupon/Bust this, we roll more spliffs than Cheech and Chong/We can do this, I kiggity-can't lose like Parker Lewis" – Das EFX
"Show Me (Remix)"
Kid Ink Featuring Chris Brown, 2 Chainz, Trey Songz and Juicy J
"I put five ladies on a four seater/I'm getting money and you sattin' on my broke meter/I'm straight from section 8, I save coupons/Just bought a car, that bitch came with Grey Poupon" – 2 Chainz
"Up Down (Do This All Day) (Remix)"
T-Pain Featuring B.o.B, Kid Ink and Boosie BadAzz
"Young fresh nigga, I'm Grey Pouponin'/Watch so sick, Father Time might vomit/If I ain't the flyest then I ain't far from it/And if you gotta hold her hand that tight, that ain't your woman" – B.o.B.
"Emotions"
Twista Featuring Johnny P
"Cause we make the women suck up, you insist to be trippin while we be gamin like Don Juan/What up the filet minion, the Grey Poupon/Them hoes are staked to charm, because we make the bomb" – Twista
"My amps my pop your ear, and possibly collapse yo lung/What color is your exterior? The same as Grey Poupon/What is you a baller? Yeah but not Lebron/Then what kind of baller are you? The kind that sell heron" – E-40
"Hotel Stripper"
Dizzy Wright Featuring Jarren Benton
"Wake up in the morning, who the hell are you hun?/Heard she pop that pussy for a fucking coupon/Bitch I'm bout my bread, Grey Poupon/Might fuck a fat bitch that weigh 2 tons" – Jarren Benton
"We Could Take It Outside"
Busta Rhymes Featuring Flipmode Squad
"The shit you talkin crazy like niggas turnin in their hand guns/I be burnin MC's like Betty's grandson/Smokin Grey Poupon boy, two lines/I chew rhymes and make niggas fall like they was futons" – Rah Digga
"I'm a fucking genius, Jimmy Neutron/Rich nigga shit, Grey Poupon/Beats: blazin' them, fans: amazing them/Water diamonds on my neck come and take a swim" – Soulja Boy
"Brooklyn Style…Laid Out"
Big Daddy Kane Featuring Scoob Lover
"What type of mission can I say you on?/Because you musta done changed to some Grey Poupon, heh/I'm really happy to see you blew up/But always remember my man you grew up" – Big Daddy Kane
"A lil more gin I do the Jim Browski/Like Filmoe Slim, a pimp, you can't cross me/No shrimp, Dre eat prawns/And do you have any Grey Poupon" – Mac Dre
"New LA"
SiR featuring King Mez and Anderson .Paak
"Speaking of the other broads that running behind cars/And brothers who mothers is hoping soon they gon' be stars/These chickens want Grey Poupon and tar tars/Like that shit make you different, you was who you was" – King Mez
"Funkin' Around"
OutKast Featuring Sleepy Brown
"See, we ain't even seen the mountaintop/Counterclockwise goes the neighborhood, hand-me-downs and canned goods/Won't cut the Grey Poupon, we got to make you run, back to the drawing board/Can't afford to lose, y'all make me yawn" – Andre 3000
"We in Here"
DMX Featuring Swizz Beatz
"Cats ain't killin' nuttin but a few minutes/I'm about to bury a box wit'chu in it/So if you got's the whip, you better get on/Cause if I pull up on, it won't be for Grey Poupon" – DMX
"I Can"
Migos Featuring Hoodrich Pablo Juan
"I'm at the top of the renaissance/I fuck her face til it's numb/Hundred round drum/I'm in the slums, grippin' some, no Grey Poupon" – Takeoff
Source:
20 Hip-Hop Lyrics Showing Love to Grey Poupon