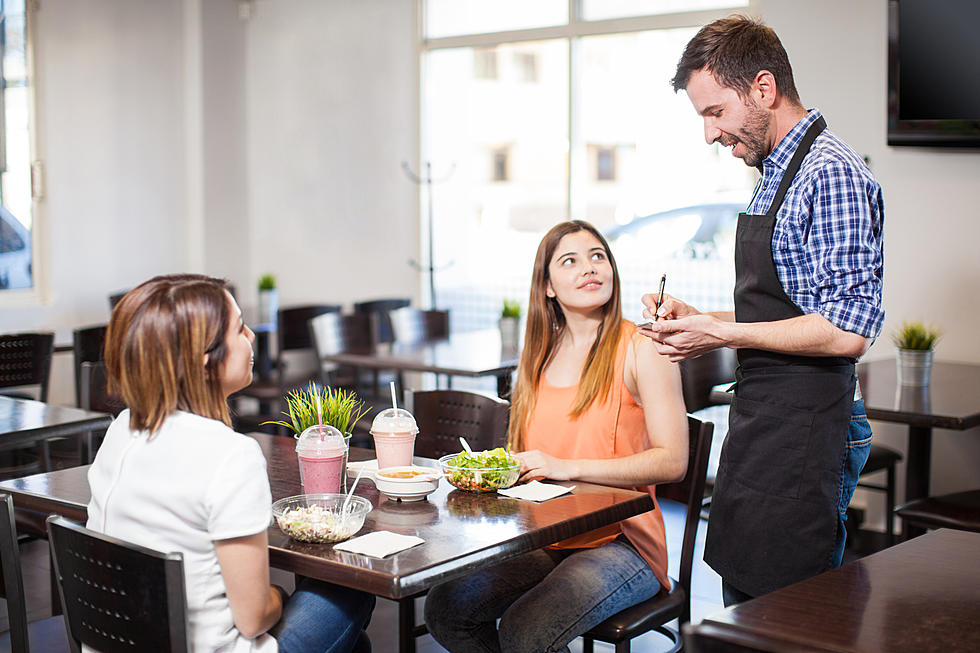 25 Lowest Paying Jobs in Louisiana
Antonio_Diaz, ThinkStock
Money. You kind of need it to live.
While we all seem to be striving to make more of it, in this tough economic climate, it's a blessing sometimes to just have a job.
If you're an average wage-earner in Louisiana, you make $41,260 per year. But folks with the state's lowest-paying jobs make a lot less than that.
1) Waiter and waitress
Median annual pay:$17,920
Average annual pay: $18,390
Number in Louisiana: 38,810
2) Food preparation worker
Median annual pay: $18,110
Average annual pay: $18,260
Number in Louisiana: 33,090
3) Gaming dealer
Median annual pay: $18,110
Average annual pay: $18,710
Number in Louisiana: 3,220
4) Restaurant, lounge or coffee shop host and hostess
Median annual pay: $18,200
Average annual pay: $18,600
Number in Louisiana: 5,490
5) Dishwasher
Median annual pay: $18,280
Average annual pay: $18,380
Number in Louisiana: 5,380
6) Personal care aide
Median annual pay: $18,280
Average annual pay: $18,580
Number in Louisiana: 33,410
7) Lifeguard and recreational protective service worker
Median annual pay: $18,290
Average annual pay: $19,610
Number in Louisiana: 920
8) Dining room or cafeteria attendant, bartender helper
Median annual pay: $18,430
Average annual pay: $18,840
Number in Louisiana: 7,380
9) Cook at fast food restaurant
Median annual pay: $18,440
Average annual pay: $18,530
Number in Louisiana: 5,910
10) Cashier
Median annual pay: $18,450
Average annual pay: $19,010
Number in Louisiana: 71,140
11) Child care worker
Median annual pay: $18,520
Average annual pay: $19,270
Number in Louisiana: 8,210
12) Counter attendant at a cafeteria, coffee shop or food concession
Median annual pay: $18,560
Average annual pay: $19,180
Number in Louisiana: 4,900
13) Non-restaurant food server
Median annual pay: $18,590
Average annual pay: $19,430
Number in Louisiana: 3,870
14) Bartender
Median annual pay: $18,690
Average annual pay: $19,640
Number in Louisiana: 9,190
15) State and local legislators
Median annual pay: $18,730
Average annual pay: $25,290
Number in Louisiana: 750
16) Maid and housekeeping cleaner
Median annual pay: $18,770
Average annual pay: $19,500
Number in Louisiana: 15,100
17) Laundry and dry cleaning worker
Median annual pay: $18,860
Average annual pay: $19,810
Number in Louisiana: 3,280
18) Cafeteria cook
Median annual pay: $18,970
Average annual pay: $20,410
Number in Louisiana: 5,510
19) Home health aide
Median annual pay: $18,990
Average annual pay: $19,820
Number in Louisiana: 8,310
20) School bus driver
Median annual pay: $19,010
Average annual pay: $20,360
Number in Louisiana: 8,230
21) Shampooer
Median annual pay: $19,030
Average annual pay: $19,260
Number in Louisiana: 140
22) Usher, lobby attendant or ticket taker
Median annual pay: $19,030
Average annual pay: $19,860
Number in Louisiana: 2,080
23) Amusement and recreation attendant
Median annual pay: $19,060
Average annual pay: $20,440
Number in Louisiana: 1,860
24) Baggage porter and bellhop
Median annual pay: $19,090
Average annual pay: $21,190
Number in Louisiana: 480
25) Social sciences research assistant
Median annual pay: $19,090
Average annual pay: $37,790
Number in Louisiana: 90