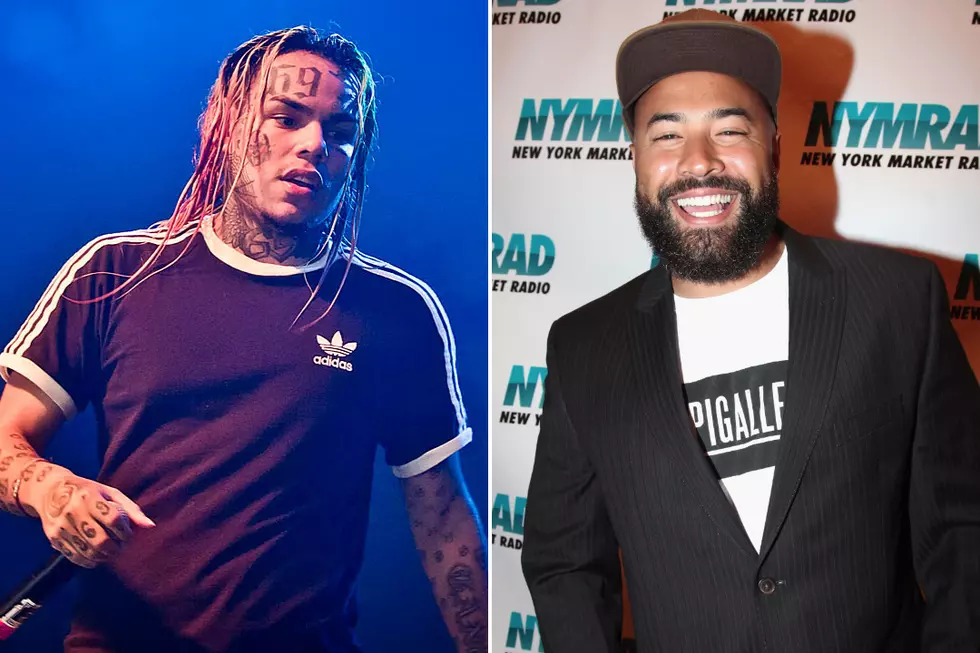 6ix9ine and Hot 97's Ebro Darden Exchange Disses on Instagram
Bob Levey/Donald Bowers, Getty Images (2)
As his legal troubles escalate, 6ix9ine has incited yet another beef on the internet. The "Fefe" rapper yesterday (Sept. 4) exchanged disses on Instagram with Ebro Darden of New York's Hot 97 and Apple Music's Beats 1 radio stations.
The confrontation's convoluted origins trace to the comment section of an Instagram post by Casanova declaring Don Q the "most underrated rapper from New York." Tekashi wrote, "I got more bars then @donqhbtl let's argue," to which Q responded by tagging Smack White and requesting he organize an Ultimate Rap League battle between him and the rainbow-haired rhymer.
Darden jumped in to comment, "Clown hair just talking cause he got lips bro," prompting a response from 6ix9ine that read, "Sukk my dikk with ya mother's lips."
In a separate post, the veteran radio personality addressed the diss, saying, "My mom's dead, bro. Damn, 6ix9ine. That's your career, too." He also posted a screenshot of the exchange with the caption, "He should have put this much energy into his verse on #GetTheStrap cause that shit doo doo," referencing the rapper's performance on Uncle Murda's current single.
This apparently inspired Tekashi, who jumped back on Instagram to post a video bragging about how he is a "disrespectful-ass kid" and reaffirming his comment about Ebro's late mom. "Do not beef with me if you not ready to get disrespected," he said. "I will say 'suck my dick with your mother's lips' and nobody will give a fuck."
Ebro responded with videos on Instagram calling 6ix9ine "trash" and making fun of the rapper's pride over his music's recent chart and sales performance. The Nicki Minaj collaboration "Fefe," which recently hit No. 3 on the Billboard Hot 100, was certified platinum in August.
"Yo, you know why you a bum? 'Cause you keep talkin' about your numbers," Darden said. "Numbers don't mean quality, fam. It's mad Wal-Marts."
Meanwhile, Smack White posted video of 6ix9ine allegedly signing a contract agreeing to battle Don Q. It's unclear whether Tekashi will have time to follow through. The Manhattan District Attorney's Office recently argued that the rapper should be required to register as a sex offender and receive one to three years in prison for failing to meet the terms of his 2015 plea agreement for a sex crime involving the filming of a 13-year-old girl.
You can read and watch 6ix9ine and Ebro Darden's back-and-forth below.
See Hip-Hop Fans Name The Most Disrespectful Diss Track of All Time