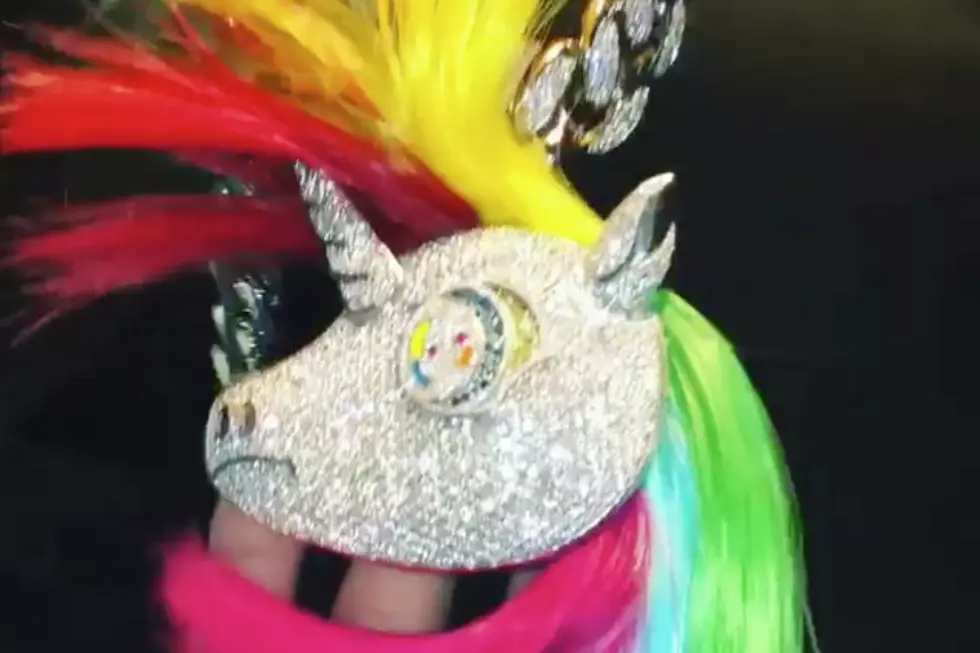 6ix9ine's New 'My Little Pony' Chain Features Human Hair
6ix9ine_ via Instagram
After 6ix9ine was released from New York jail last Friday (July 13), the rapper told his fans that he planned to celebrate with a haircut. In an Instagram post on Wednesday (July 18), Tekashi reveals that a trim did indeed go down, and a few of those chopped rainbow locks may have landed somewhere peculiar: in the mane of his new iced-out My Little Pony chain.
"It's been a long tour. I'm back in America," he explains. "Despite all the jail stuff going on, I lost 30 pounds, I feel good. I just got my hair done. I'm still the fastest kid in the world. We got a new piece. Never been done before. My Little Pony with actual fucking hair, human hair. We fucking did it again."
The "Gotti" rapper continues, "Hottest jewelry in the fucking game, man." According to his IG post, the piece cost a whopping $750,000. But TMZ's sleuths report the extravagant charm cost $95,000.
The diamond-covered chain in the video is designed to resemble one of Hasbro's famous animated unicorns, complete with rainbow-colored eyes. The mane appears to be made with 6ix9ine's own multi-colored hair.
The purchase comes during turbulent times for the artist. Tekashi was arrested last week and detained at Rikers Island on an outstanding Texas warrant regarding his alleged assault on a 16-year-old boy at a Houston shopping mall. He was granted bail on the condition that he would surrender, which he did, then posted bail in Texas.
Tekashi's arraignment in Texas is scheduled for tomorrow (July 20). You can check out his new My Little Pony chain below.
See Photos of Rappers' Fashion Choices in 1997