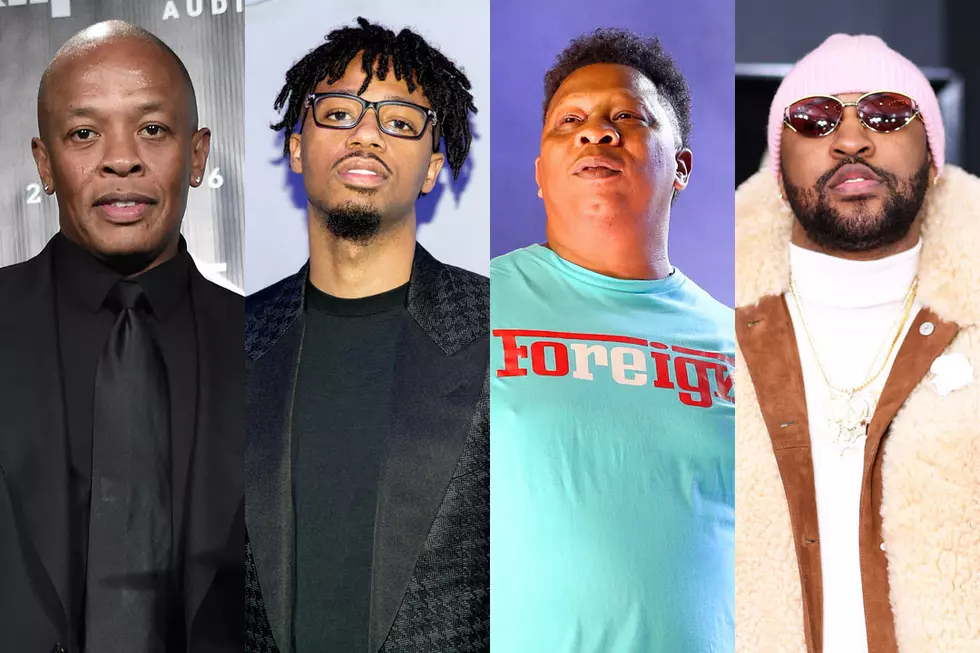 Here Are the Best Hip-Hop Beats Made by Respected Producers in the Game
Mike Coppola / Roy Rochlin / Bennett Raglin / Dimitrios Kambouris, Getty Images (4)
Hip-hop at it's core is lyrics on a beat, with both being vital for the final product. Throughout the genre's history, there have been some truly incredible beats that turned producers into stars, and more unsung beat-makers served as a shining light for an already strong catalog. There are some classic songs that most hip-hop fans are aware of, along with other jams that may have been missed. From Dr. Dre to Metro Boomin, Mannie Fresh to Mike WiLL Made-It, producers from all generations have been killing it for quite some time. Here, XXL highlights some of the best hip-hop beats made by respected producers in the game, all of which are worthy of having a light shined on them.
There are plenty of beats that have stood the test of time, and are widely-regarded as big moments in rap. One such production is DMX's "Ruff Ryder's Anthem," produced by Swizz Beatz. Swizz is a member of Ruff Ryders and served as their main producer during the collective's heyday, and he showed out for years as he helped lift the crew up. "Ruff Ryder's Anthem" is a great beat and is strong enough that both X and Swizz will forever be tied to it.
Then there is newer production that stood out from the pack in a major way. Young Thug's "Hot" featuring Gunna is a really good single in its own right, but part of that is due to Wheezy going crazy on the boards. The use of horns and a drum that sounds like it's from another planet really created a perfect background for Thugger and Wunna to make one of their strongest collabs. Hip-hop is in a good place now and will continue to be.
Check out the Best Hip-Hop Beats Made by Respected Producers in the Game and choose your favorite.
Dr. Dre's production has always felt like someone bringing you to California. There are few beats that teleport you to a fly summer day on the West Coast like his 1992 song "Let Me Ride" does.

Swizz Beatz produced a ton of beats for Ruff Ryders and shaped the sound of the entire crew. He has plenty of classic beats, but none more accurately define DMX and the label's ethos like "Ruff Ryder's Anthem."

One of Kanye West's more darker and introspective records is his 2005 song "Addiction," which is centered on a man facing his own demons. The beat features a guitar that seems to loop on forever alongside a haunting sample, fitting the mood of looking within yourself.

After years of label struggles, Clipse released their sophomore album, Hell Hath No Fury, in 2006. Their sound was now darker and had more anger to it; The Neptunes rose to the challenge and flipped their sound, after years of glossy hits. Using chants and heavy drums, along with the chimes they became famous for, The Neptunes perfectly translated the rap duo's frustration with "Keys Open Doors."

Timbaland is an innovator; no one has his ear nor is able to use the sounds he does. The 1999 track "Nigga What, Nigga Who (Originator 99)" sounds like Jay-Z was rapping over the bleeps of a traveling spaceship, and only Timbaland could push Jay that far from his traditional sound. The beat, which sounds like it came from the future, has a subtle bleakness to it, a perfect fit for Jay's matter-of-fact raps.

"Nas Is Like" is an amazing song period, and DJ Premier sampling Nas himself led to him handing the young legend one of his best beats. This 1999 track is truly one of the rapper's definitive works.

Zaytoven has plenty of bangers, but the 2015 song "Peacoat" he produced is one of the best matches of flow and production in his career. Future effortlessly dances all over the keys Zaytoven lays about before him, with plenty of negative space for Pluto to cook.

Mannie Fresh is the architect of the Cash Money Records sound, re-engineering his bounce music influences to create hip-hop classics. "Snitch," off Lil Wayne's 2004 album, Tha Carter, is a complete switch-up, with Mannie working in space age sounds and still keeping the feel that made him a household name.

Just Blaze was already a legend by the song's release, but Kanye West's 2005 track "Touch The Sky" is an important bullet point in his career. The beat is a perfectly chopped soul sample, with bass guitar and drums accentuating it. The song is about triumph and striving for success, and the beat sounds like winning a championship against all odds.

RZA is known for his murky, lo-fi loops and taste for the obscure, but Ghostface Killah's "The Faster Blade" featuring Raekwon is just funky, and it shows in Rae's delivery. The bounce of the drums and the uncharacteristic brightness of the sample give Rae plenty of room to spit.

Mobb Deep are hip-hop legends from Queens for what they've contributed to the game; two gritty, war-hardened MCs showing you the ins and outs of Queensbridge Projects. Havoc produced a majority of their beats while pulling double duty as a rapper, and he really shined on Mobb's own "What's Ya Poison." The production is very strong, bringing the worlds of eerie, horror film adjacent pianos and boom bap together.

DJ Quik loves to have fun, and that has always translated to his music. The beat for his 1995 track "Somethin 4 tha Mood" sets the tone well. Just a night out on the town with the homies.

40, Drake's right-hand man and the very core of his sound, has plenty of beats that will stand the test of time. On Drake's 2015 project If You're Reading This It's Too Late, 40 went outside the box for a few beats, including "Madonna," a haunting, piano-loop driven production for Drake's story about a new woman in his life.

Kendrick Lamar's sound switches with every album because he is both talented and experimental enough to pull this off. The beat work on the 2017 track "DNA," created by Mike WiLL Made-It, helped K-Dot achieve just that. Mike put together booming bass and a sitar on the way to making a classic song in the modern times.

After "Bad and Boujee" dropped in 2016, everyone involved was a superstar. Migos and Lil Uzi Vert all delivered, and Metro Boomin created a legendary beat filled with climbing bass and an inimitable bounce that would help turn Migos into the biggest rap group on Earth.

French Montana's "Shot Caller" is an all-time great track, and half of that is due to Harry Fraud's work behind the boards. The production sounds like the soundtrack to a black-and-white detective film, except it takes place in the Bronx in 2012. This song truly captures French's essence as he transitioned from a respected mixtape rapper to a consistent hitmaker here.

There are few mixtapes that were as shrouded in mystery as Future's "56 Nights" in 2015, and "Now" sums up the energy of the entire project. The muffled drums and the vocal loop are stellar. Southside's work here exudes the chip on Future's shoulder, the ability to survive through anything, whether it's label troubles or losing your mixtape to Dubai law enforcement.

Wiz Khalifa has always been one of the coolest rappers out, and he took the world by storm with his laidback raps about weed and women. This made him a perfect match for producer Cardo, who makes fly and airy beats that feel like a good ol' Los Angeles afternoon. "Mezmorized" is one of those beats, and it is surely a Wiz Khalifa classic.

The late Juice Wrld was a very talented Chicago rapper and singer who's sound was a bit left of center. His music evolved alongside Nick Mira, who's blend of trap drums and musicality helped make Juice a true star. "Lean Wit Me" is a somber production, with an electric guitar seamlessly woven into what is an emo rap song. Long Live Juice.

You've heard the "Cook that shit up, Quay!" ad-lib countless times on beats, and for good reason. Lil Baby is a big time rap star, and Quay Global has worked on all his projects, including Baby's most recent album, My Turn. "Heatin Up," a song from the LP, is an especially strong contribution from Quay, where he makes horns and 808s sound like a new king is arriving.

P'ierre Bourne is already a top-rank producer off his work with Playboi Carti, but his production for other artists is incredible, too. The beat for Young Thug's "I'm Scared" is both spooky and futuristic; P'ierre's timing on his drums and the way he uses keys here are unmatched.

With no exaggeration, Turbo rose to another level when he produced Gunna's 2018 track "Sold Out Dates." The production defined Gunna's sound at the time; he became well-known for the swirling guitar sounds and the crawling 808s present here. This song moved Gunna up the ranks and helped turn Turbo into a popular producer.

Jetsonmade built his name up off producing hit songs for DaBaby, like "Suge" and "Goin Baby." But "Carpet Burn," a 2019 album cut from Baby on Baby, is a little different, with building guitars and drums under the rapper's tale about stealing girlfriends.

"Hot" is a great collab between Young Thug and Gunna, two artists with quite a few hits already under their belt. Wheezy crafts the beat, which sounds like an outer space parade thanks to the horns, and drums that sound like an explosion.

Kenny Beats' career is full of rock-tinged, bass-heavy rap beats. But 777, his 2018 collab album with Atlanta rapper Key!, saw him stretching his boundaries, like he did on the dreamy "It Gets Better." Key raps about feeling guilt and trying to grow from that; Kenny's haunting use of keys and a flawless drum pattern set the scene perfectly.

Tay Keith and BlocBoy JB were old friends and collaborators for years, long before they could count Drake as a fan. When the 6ix God called, Tay Keith took his production, which was a modernized take on Three Six Mafia's style, and polished everything up for the hit song "Look Alive" in 2018, with his drums hitting cleaner than before. This was the beat that introduced Tay Keith to the big leagues, and he never looked back.

Before Travis Scott took over the world with his Astroworld album in 2018, he released "Butterfly Effect" as a single in 2017. The track stuck out from his discography, and that was due to Murda Beatz's production work, a glimmering and hopeful work that didn't sacrifice on its thump.

TM88 uses sounds and approaches that few other producers will; 2 Chainz's 2016 song "Not Invited" has vocal sample, organs, an electric guitar and 808s. It all fits together seamlessly, and is one of TM88's smoothest productions.

T-Minus has plenty of styles in his bag, but no one could've predicted he could perfectly emulate the sound of The Bay and it's hyphy movement. The 2011 track "The Motto" is one of Drake's most fun records. Everyone involved could just let their hair down for this hit song.

LiL Uzi Vert is plenty talented, and decided to push his limits and sing all the way through his Lil Uzi Vert Vs. The World 2016 cut "Scott and Ramona." WondaGurl is responsible for the soundscape, a vast, stadium-filling slow burner, fitting well with Uzi's tale of being caught in a love triangle.

Even on a well-produced project like Fever, the "Cash Shit" beat stands out. The song really bangs while not being overproduced. While the track is little darker than LilJuMadeDaBeat's usual work, it sets the perfect canvas for a collab between Megan and DaBaby, two of the biggest names in rap nowadays.