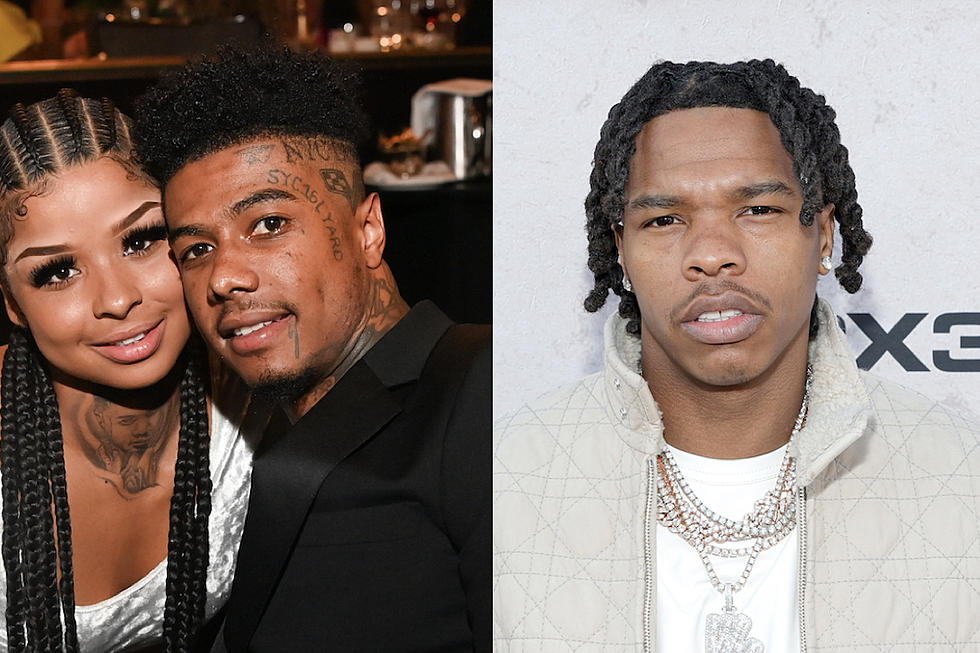 Blueface Questions Chrisean Rock After She Claims Lil Baby Complimented Her – Watch
Prince Williams/Stefanie Keenan, Getty Images (2)
During their Instagram Live session over the weekend, Blueface questioned Chrisean Rock after she claimed Lil Baby complimented her.
On Saturday (Feb. 19), a video surfaced of Blueface and Chrisean Rock on Instagram Live chatting and eating chicken wings together. During their convo, Blue checked Rock for letting "too many rap niggas be in her face." That's when the topic of Lil Baby came up.
"Who in that picture, on my Twitter, in your face?" Blue asked her, to which she responded, "Lil Baby."
The "Thotiana" rapper suggested that Lil Baby was trying to holler at her at an after-party, but Rock assured him, "It wasn't even like that."
Blueface then pressed Chrisean on what she and Lil Baby were talking about. The Crazy in Love baddie was coy with her answer but replied, "That you was my manager." She also claimed that Lil Baby told her that she had "potential." In response, Blueface joked, "Potential to what? Fuck him?"
Rock was unhappy with his response and tried to clarify to him that it was an innocent conversation.
"It was an empowerment conversation," she said.
"Y'all had an empowerment conversation at 5 a.m.?" he questioned her before the video ended.
Before their lovers' quarrel on IG Live, Blueface hopped on his IG Story to react to being name-dropped by Chris Brown in an Instagram rant about domestic abuse.
Breezy was frustrated with fans constantly bringing up his assault on Rihanna in 2009 but questioned why Blueface and Chrisean Rock don't face the same scrutiny.
Blueface said in his video that Brown just gotta play the cards that he was dealt with and "stand on it."
Watch Blueface Question Chrisean Rock About Lil Baby Complimenting Her Below
See 50 of the Worst Lyrics From Rappers