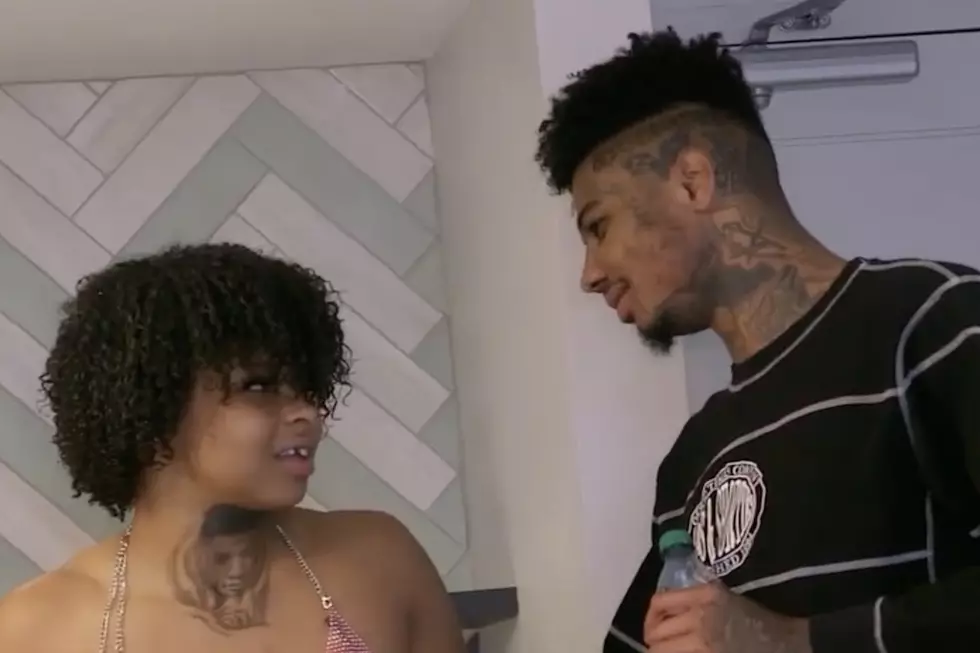 Chrisean Rock Insists She's Not Gay, Tells Blueface She Doesn't Want to Kiss Women Anymore
zeusnetwork/Instagram
On the next episode of Crazy Love, Chrisean Rock insists she's not gay and tells Blueface that she doesn't want to kiss women anymore.
On Sunday (Feb. 5), the Zeus Network posted on their Instagram account a video preview of Chrisean Rock and Blueface having a little lovers' quarrel on tonight's episode of their popular reality series Crazy in Love. In the clip, Chrisean is excited to be performing at the annual Pride event and is trying to figure out her set. That's when Blue asked her if she was part of the LGBTQ community.
"I'm not gay, baby," Rock said, which surprised Blueface. "You just like to make out with women for fun?" he asked.
"Not no more. I like making out with you," Rock responded.
Blueface then suggested that he might bring another woman into their relationship so she could kiss her.
That's when things started to get really intense. Rock, upset by Blue's threesome proposal, made it clear she doesn't want to share women with him.
"See, this is why I be ready to fight you," she seethed. "Who the fuck? Since when I started wanting to share?"
Blueface seemed perplexed at Rock being so upset by his suggestion.
"What chu mean, you like to kiss?" he questioned. "That's crazy. You kiss all the bitches you want without me. But with me, you don't wanna kiss nobody."
The video ends, but we can expect that Rock and Blue will probably have a full-blown argument over their open relationship.
In the meantime, Chrisean Rock is pregnant with Blueface's baby. The 22-year-old reality star has not revealed the arrival date of her baby.
Watch Chrisean Rock Tell Blueface She's Not Gay and Doesn't Want to Share Women With Him Below
See Rappers With an OnlyFans Account