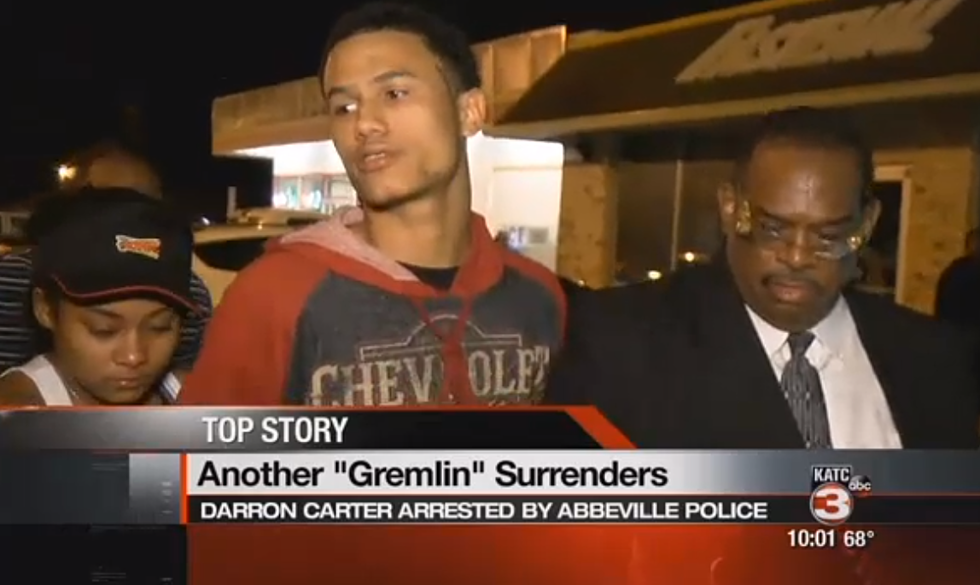 Darron Carter, Accused 'Gremlins Gang' Member, Turns Himself In To Abbeville Police [VIDEO]
KATC
KATC's Alex Labat reports that 18-year-old Carter is facing a number of charges for drugs and "gang activity" and is being held on a $1 million bond.
Carter made no comment as he walked arm in arm with his family up to the front door of the Abbeville Police Department where he was taken into custody—a different story than what has played out on his social media over the past few weeks.
In the wake of former St. Landry Parish Captain Clay Higgins' controversial video in which he called out Carter and other accused members of the 'Gremlins Gang,' Carter's social media pages have been abuzz with photos, videos and songs related to the reports of his involvement in gang activity.
There is even one song called 'Sgt. Higgins' which features audio samples of former St. Landry Parish Deputy Clay Higgins calling out Carter and other alleged 'Gremlins Gang' members.
'Toss them around like rag dolls.' I guess that put a lot of fear in them. He's not running from the law.  He's running from someone trying to hurt him
After Carter turned himself in, four alleged 'Gremlins Gang' members are still on the loose:
Travis Cooper, B/M; 1213 Clover St., Abbeville; DOB: 04/11/1990
Jerran Diggs, B/M; 611 Alphonse St., Abbeville; DOB: 05/30/1978
Kirkland Demouchet, B/M; 809 N. East St., Abbevillle; DOB: 03/12/1995
Jonathon Landry, B/M; 1926 Primeaux St., Abbeville; DOB: 07/23/1986
If you know the whereabouts of any of the suspects, please contact Louisiana State Police Troop I at (337) 262-5880 or the U.S. Marshal's Office at (337) 277-9667.