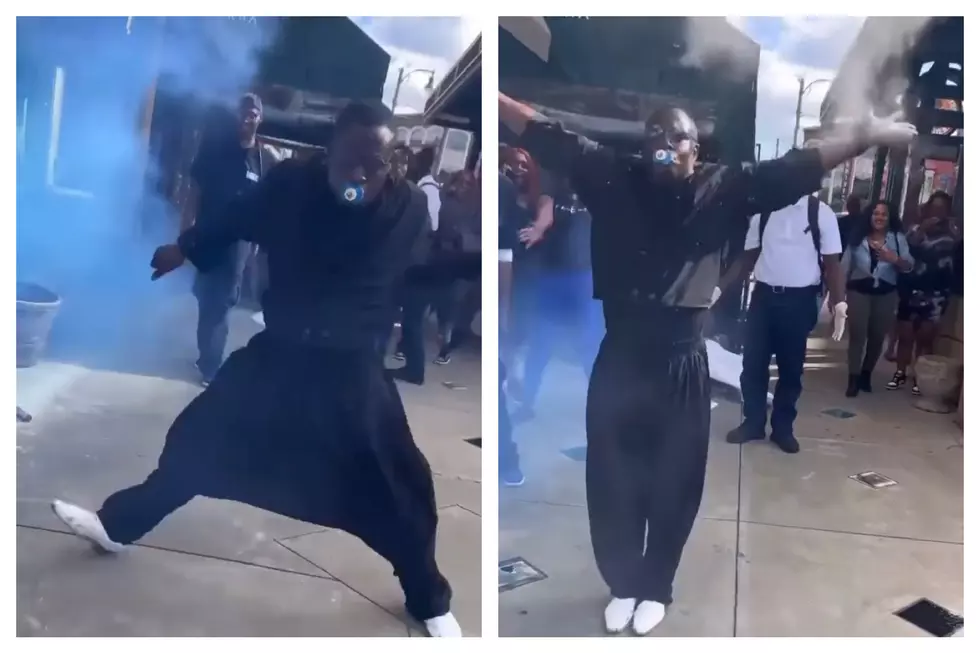 Emergency Sidewalk Birth Turns into the Most Shocking Gender Reveal Stunt Ever
Instagram via @famousamos_sofunny
A video on social media has recently gone viral as it seemingly shows what could be considered the most shocking gender reveal of all time. As it turns out, the man responsible for the viral clip is a familiar face online.
There are few words that can describe this video that has been shared numerous times on social media.
The stunt is made out to appear like an emergency birth in public, with one mother wailing in pain as she is comforted on a sidewalk. There seems to be a buzz surrounding the scene as multiple onlookers watch anxiously as to what would happen next.
My guess is that no one nearby could have expected what ends up happening.
Out from under a white sheet comes a man dressed in all black with a blue pacifier in his mouth.
Who is it? None other than "Famous Amos", the man who pulls off some of the most insane and hilarious stunts on Instagram. This is when the hilariously wild moment really kicked off.
The track from 'Mouse' and 'Level' entitled "I Bet U Won't" kicks on and this man starts going absolutely insane. Blue smoke shoots out from nowhere and the crowd erupts.
It didn't stop there. The man-baby proceeds into the street and towards an ambulance.
You might remember this same man who went viral after popping out of a casket on the back of a flatbed to start dancing.
But the rest of the gender reveal clip is too wild to try to put into words, so just check it out for yourself.
Public Gender Reveal Takes the Most Shocking Turn
See the original post from @famousamos_sofunny on Instagram below.
See the video shared by @stevieb__ on Twitter here.
While it wouldn't have shocked me at all to find out this happened in Louisiana, one Twitter user pointed out that this all went down in Memphis, Tennessee.
More reactions to the clip from Twitter below.
"Famous Amos" is continuing to do the most on Instagram, as his entertaining videos go viral time and time again.
The Most Popular Baby Names From The Year I Was Born