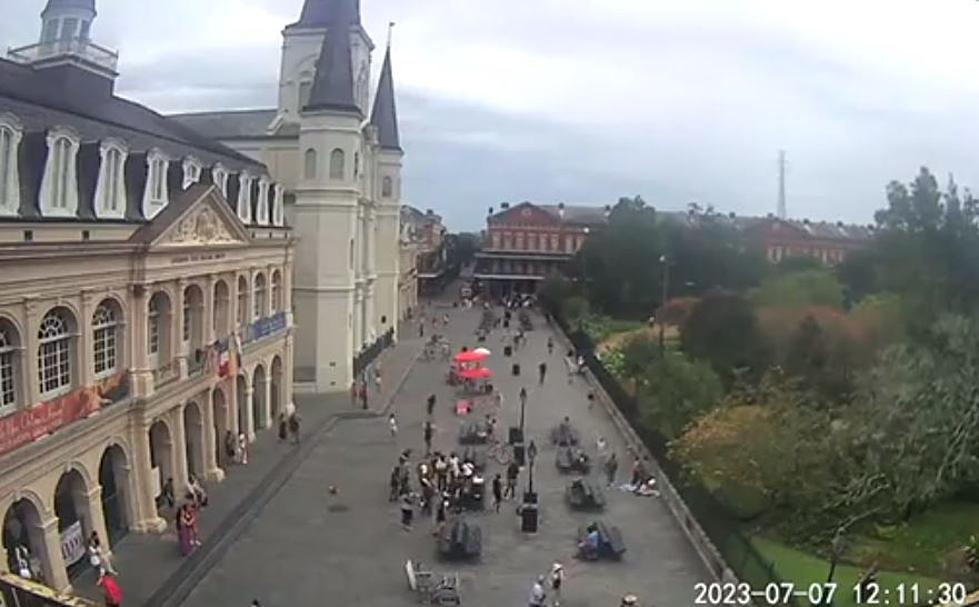 Family of Teen Crushed by Jackson Square Oak Tree Suing City
Louisiana State Museum
Attorney Morris Bart has come forward with plans to sue the City of New Orleans after part of an oak tree in Jackson Square crushed a teenager. It happened last week in the popular tourist area near St. Louis Cathedral and the world-famous Cafe du Monde. Bart says the 16-year-old suffered brain damage and that the family would be "aggressively litigating" the issue.
Surveillance video from outside the Louisiana State Museum shows the moment the tree fell. Weather conditions were windy, but not severe.
NOLA.com reports the teen remains in ICU following the incident. Published reports say that a week before this happened another branch from the same tree also fell. The legal rep for the family said this is gross negligence on the part of the city and represents "obvious neglect".
Video from the moments after the fall shows witnesses trying to move some of the branches to free those who were under them. WARNING: Video may be sensitive to some readers.
There has been an outpouring of support for the teen. This area is popular with tourists and this time of year, despite the heat, families pour into the French Quarter on summer trips.
An investigation continues into the health of the tree before the incident. In a statement to WWL TV, the city says:
"The mature live oak was inspected by Parks and Parkways arborists on June 27 while performing clean up to remove a large failed limb (referred to as a leader). The tree was again inspected on June 28. The determination then was made to perform additional pruning on a smaller dead limb and reevaluate the health and balance of the tree once specialized equipment was made available to access the square. When an immediate risk for failure is observed through arborist inspection, a tree is removed immediately. Our arborists concluded, based on the two remaining sections of the tree, that there was not an elevated risk of additional large limb or whole tree failure.
The Perfect Getaway Spot is Located in Breaux Bridge
In the heart of Cajun country, there is a perfect spot for a scenic getaway at Bayou Cabins. Bayou Cabins is located at 100 W Mills Ave, Breaux Bridge, LA 70517.