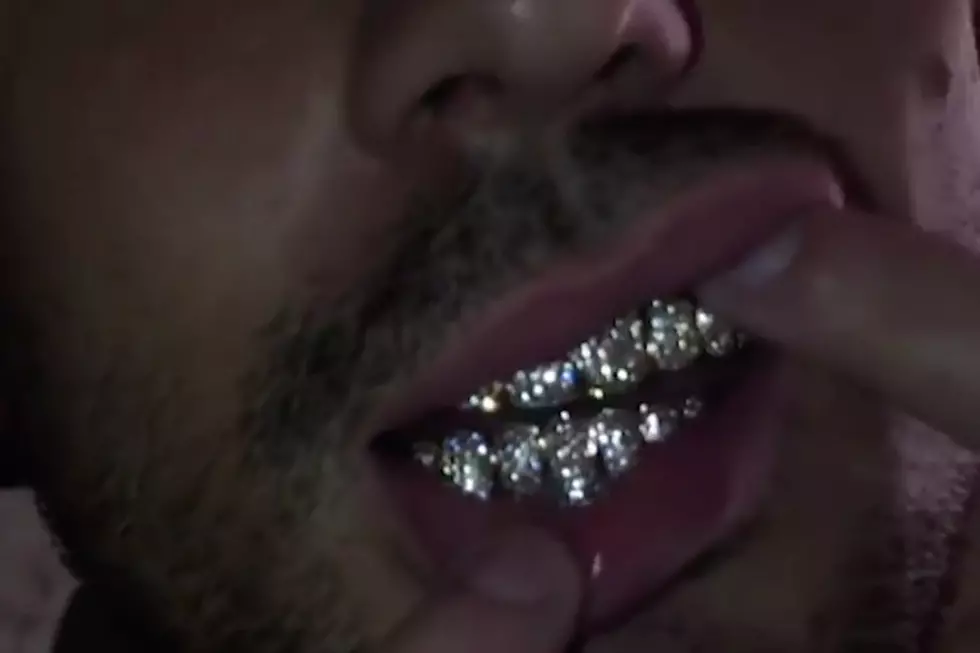 G-Eazy Shows Off New $30,000 Grill
maisonraksha via Instagram
G-Eazy dropped serious cash on some new jewelry during the final days of his summer tour. The "No Limit" rapper upgraded his grin with a grill featuring 500 vvs diamonds set in 14k rose gold, to the tune of $30,000, TMZ reported yesterday (Sept. 3).
Jonathan Raksha, the Toronto jeweler who designed the piece, offered a peek on his Instagram. Two photos feature the grill in all its glory and an accompanying video showcases G-Eazy trying the piece on for size.
The purchase comes as Gerald nears the completion of The Endless Summer Tour, for which he was the headlining act. Ty Dolla $ign, Lil Uzi Vert, YBN Nahmir, P-Lo and Murda Beatz joined as opening acts. The tour hits Raleigh, N.C. tonight (Sept. 4) and wraps in West Palm Beach, Fla. on Sept. 8.
The 29-year-old's splurge also comes amid his burgeoning beef with Machine Gun Kelly. During an Aug. 30 freestyle with Funkmaster Flex, Kelly dissed G-Eazy's newly blond hair and claimed to have "fucked his girl," which fans presume to be a reference to Eazy's ex-girlfriend Halsey.
The Oakland spitter responded hours later with "Bad Boy," a diss recorded over Drake's Tay Keith-produced track, "Nonstop," that accuses Machine Gun Kelly of "trolling."
You can view G-Eazy's new grill below.
See Hip-Hop Fans Name The Most Disrespectful Diss Track of All Time