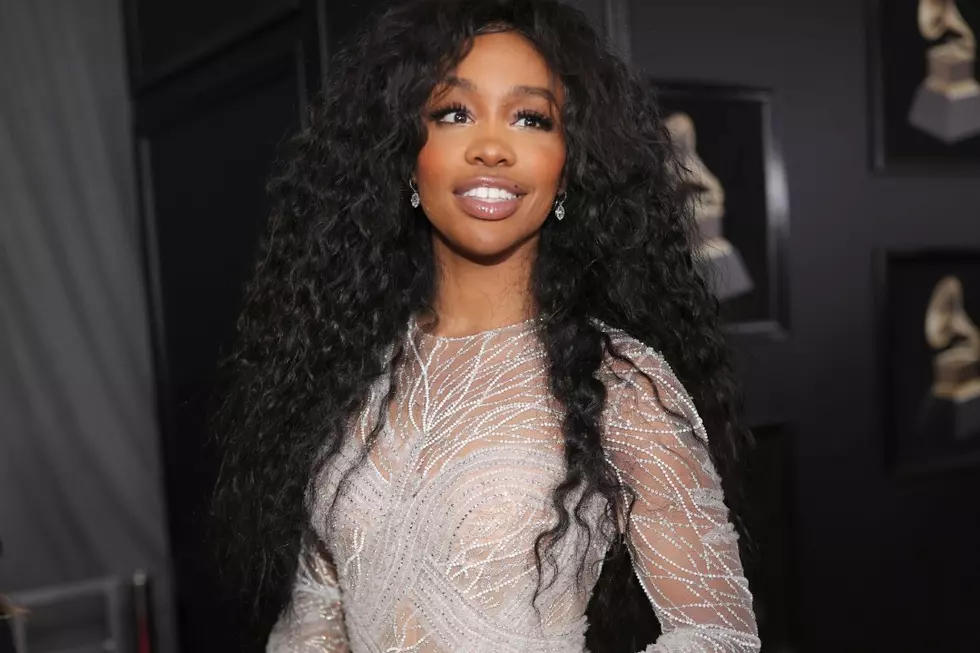 Here's How SZA Was Shut Out at The 2018 Grammys
Christopher Polk, Getty Images
JAY-Z wasn't the only big artist who was completely shut out at the Grammys last night (Jan. 28). So was the most nominated female artist of the night—SZA. She was up for five awards off the strength of her debut album, CTRL and went home with nothing.
Her charged performance of "Broken Clocks" had fans scratching their heads even more, wondering how it was possible she didn't win anything— clearly the singer/songwriter is a step above her peers, which was exemplified by the way she rocked that song.
As for the album, CTRL was an honest, captivating study on emotional maturity, honesty and dealing with the ups and downs of love, while keeping a steady eye on your personal faults and issues that may play a part in your relationship woes. Basically, it was a great debut album, and a clear fan favorite.
So exactly how did SZA lose all five of her Grammy nominations? Let's take a look.
Best Rap/Sung Performance. She was nominated in this category for "Love Galore" featuring Travis Scott and lost out to her TDE labelmate, Kendrick Lamar's collab with Rihanna, "Loyalty." Honestly, "Loyalty." was a better song, and the use of Rihanna's vocals was impressive and different, and made for one of the better tracks on a stellar album (DAMN. should've won Album of the Year but that's another conversation). It's no real surprise SZA didn't take home the statue in this category.
Best New Artist. This is the category that had everyone ready to throw something at the television because this is where SZA definitely should've won. And that's no diss to Alessia Cara, who took home the award. It's just, Cara's debut album with Def Jam, Know It All, came out three years ago, in 2015. SZA's been recording for years as well (see her fantastic EP: Z), but her first official major label debut was CTRL, which dropped in June 2017. And either way, SZA had a huge breakout year. She should've won this award, easily.
Best R&B Song. She was nominated here for "Supermodel" an aching track produced by Pharrell and Scum, where she sings about her back and forth with a dude, while she yearns for his validation. Bruno Mars's hit, "That's What I Like" won instead. In fact, Bruno won in every single category he was nominated for this year. This was a tough call but Bruno's win isn't unwarranted here.
Best Urban Contemporary Album. This was another tough category that saw entries from Childish Gambino (Awaken My Love!), The Weeknd (Starboy), 6Lack (Free 6Lack) and Khalid (American Teen). Honestly, Childish Gambino probably had the strongest album here but the way CTRL resonated with listeners, heightened by SZA's superior songwriting, made it a logical choice to win. The Weeknd walked away with the award, however, and he probably had the weakest album among the pack.
Best R&B Performance. Daniel Caesar's breakout hit "Get You" featuring Kali Uchis, Ledisi's "High," Kehlani's "Distraction" and Bruno Mars's "That's What I Like" rounded out this category. And while Daniel Caesar definitely could've walked away with the award here, this is another category where SZA's fan favorite "The Weekend," featuring her light but yearning vocal performance, easily could've won. Instead, it again, went to Bruno. It shouldn't have.
All in all, SZA should've definitely went home with at least two awards, possibly three. The fact that she left with none is yet another reason why people don't really trust the Grammys. At least SZA basically starred in every other commercial that aired during the ceremony, so she's getting her coins, even if she didn't win a statute.
10 ALBUMS THAT DESERVED GRAMMY AWARDS FOR BEST RAP ALBUM