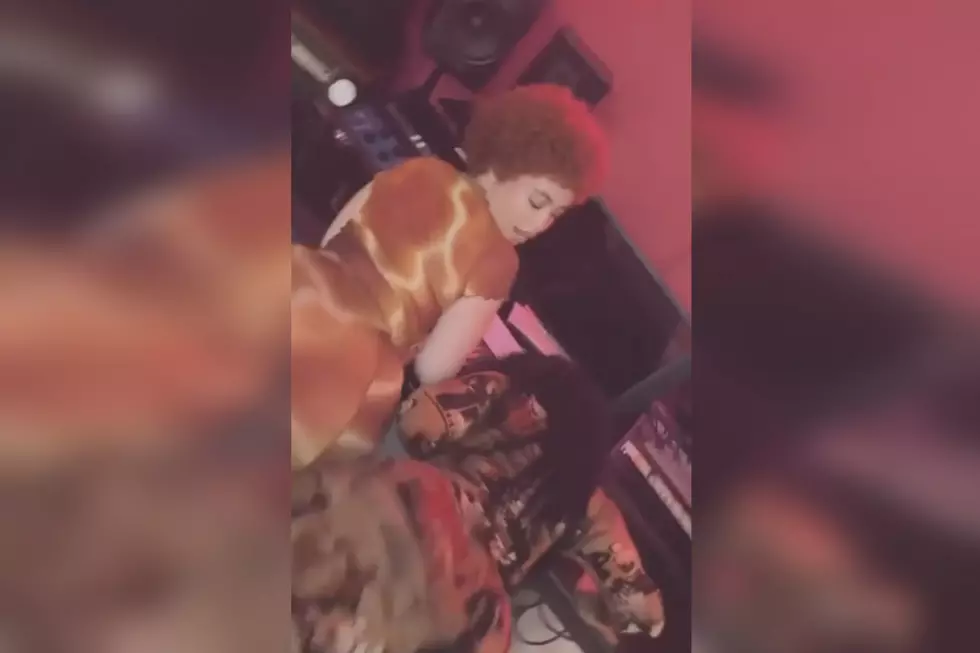 Ice Spice and Nicki Minaj Twerk in Studio – Watch
ice spice/instagram
Ice Spice and Nicki Minaj recently released a new single and now we get footage of the rappers in the studio twerking, to boot.
Yesterday (April 16), Nicki Minaj and Ice Spice shared the same video clip to their respective Instagram pages. In the clip, the women appear to be in a studio as speakers and a soundboard can be seen in the background of the dimly lit room. Both women are next to each other bent over a couch throwing their respective backsides in a circle to the soundtrack of Nicki Minaj's verse on their new collab. The duo even get a little handsy before the video clip ends.
Ice Spice and Nicki Minaj released "Princess Diana (Remix)" on April 14. Along with the track, the New York rappers put out a music video for the song. The song was jointly released on Nicki's new record label, Heavy On It.
The track finds Nicki dropping brand new bars.
"I, I, I be eatin' my spinach (Spinach), they tried to clone my image (Image)," Nicki Minaj raps on the new track. "They burned, they London Bridges (Bridges), none of them b*tches British (No)/I know they know the difference (Grr)/And I just fell in love with a gangsta (Grrah)/So I hold him down like an anchor (Grrah)/He said if I keep it a hundred (Grrah)/That he'll keep me safe like a banker (Grrah)/Nowadays, I be makin' 'em famous (Grrah)/She the princess, so f*ck who you lames is? (Grrah)/Of course, I be pushin' they buttons (Grrah)/I hold the control like the gamers (Woo)."
Nicki is definitely back in music mode. The song comes on the heels of her releasing a new track titled "WTF" with NBA YoungBoy as well as her street single "Red Ruby Da Sleaze."
See Video of Nicki Minaj and Ice Spice Twerking in the Studio Below
See Rappers' Real Names