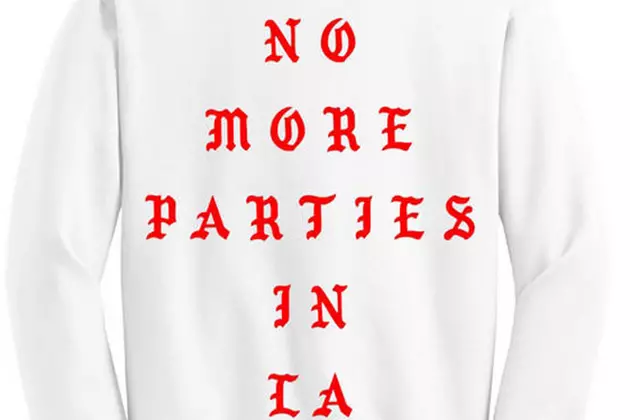 Kanye West Drops No More Parties in L.A. Merch
KanyeWest.com
Kanye West feels like Pablo and now you can dress like Pablo too.
'Ye is back with more merchandise from his The Life of Pablo collection. Following his sit down with Ellen Degeneres, Yeezy premiered a new edition to the collection via Twitter. The "Ultralight Beam" rhymer posted a link to an image of a white crewneck sweatshirt that featured the Pablo Old English font.
The white and red sweatshirt has the words "Los Angeles" sprawled across the front in red lettering, while the back has "No More Parties in L.A.," referencing the title of the album's track featuring Kendrick Lamar. The new merch went for a cool $90 and sold out in less than 24 hours.
It's no surprise West's TLOP collection is selling like a new batch in a drought. Back in March when he launched his TLOP pop-up shop in New York thousands of fans lined up to cash out on his limited edition looks. T-shirts ($45), hoodies ($95), beanies ($35) and hats ($40) from the Yeezy Season 3 show were sold out in a matter of hours.
But if you missed out on the pop-up and the "No More Parties in L.A." crew sweatshirt, there may be hope on bidding sites like Ebay or Amazon.com.
50 Great Albums From Rappers With Poetic Flows