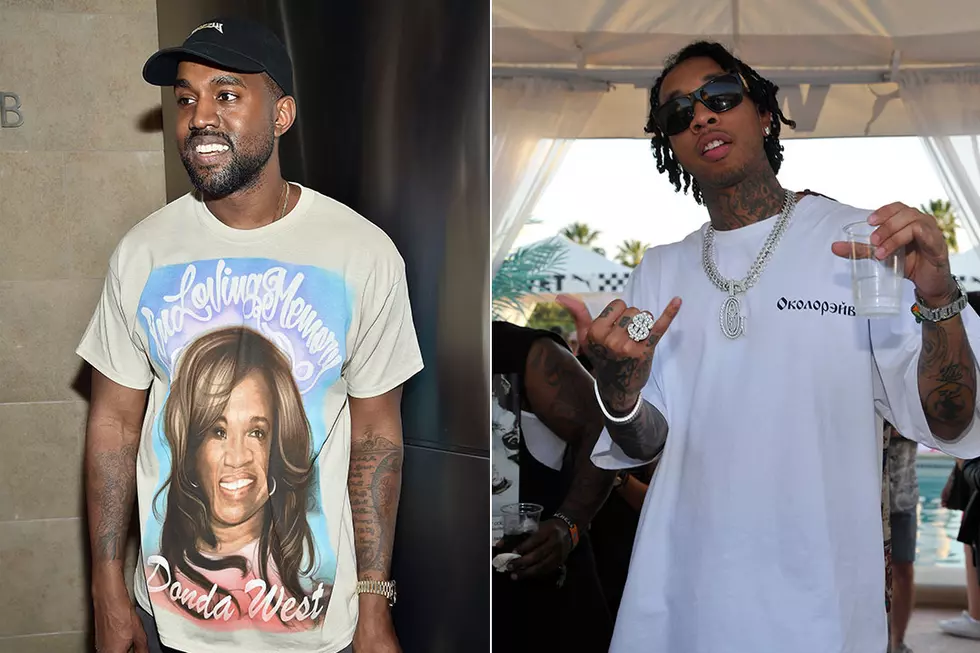 Kanye West Calls Tyga's "Taste" Visual the Best Video of All-Time
Dimitrios Kambouris/John Scuilli, Getty Images
When Kanye West gets into his most creative mind state, he normally ditches his cellphone in order to preserve his genius from distractions. However, after seeing Tyga's "Taste" video, it seems he felt the need to reach out.
Tyga appeared to receive a flattering early morning e-mail from Ye, who had high praise for T-Raww's raunchy "Taste" video that Tyga actually co-directed himself.
The "Rack City" MC reposted the kind words from Yeezy to his Instagram story on Wednesday (May 23). "This is the best video of all-time. Thank you for this perfection," wrote the Chicago-bred artist, who has become synonymous with maintaining an optimal eye for visual art throughout his illustrated career.
"Taste" finds the 28-year-old linking up with Offset of Migos as the pair of artists become surrounded by a plethora of beautiful women making for a lively house party scene. Superstar cameos are made by rap veterans 2 Chainz and Wiz Khalifa. Comedian King Bach also makes an abbreviated appearance in the frisky visual.
The "Feel Me" collaborators have maintained a solid friendship through Tyga's separation from the Kardashian clan after his split from Kylie Jenner back in 2017. There previously were rumors in 2016 that the California native inked a management deal to West's G.O.O.D. Music label, which turned out not to be true.
Tyga's work ethic hasn't wavered after dropping off his latest LP in February, Kyoto, which found KingGoldChains at his most vulnerable state. "Taste" has already amassed nearly six million views in just over a week since the lavish visual released on May 15.
Check out the e-mail from Kanye to Tyga below.
See New Music Releases for May 2018