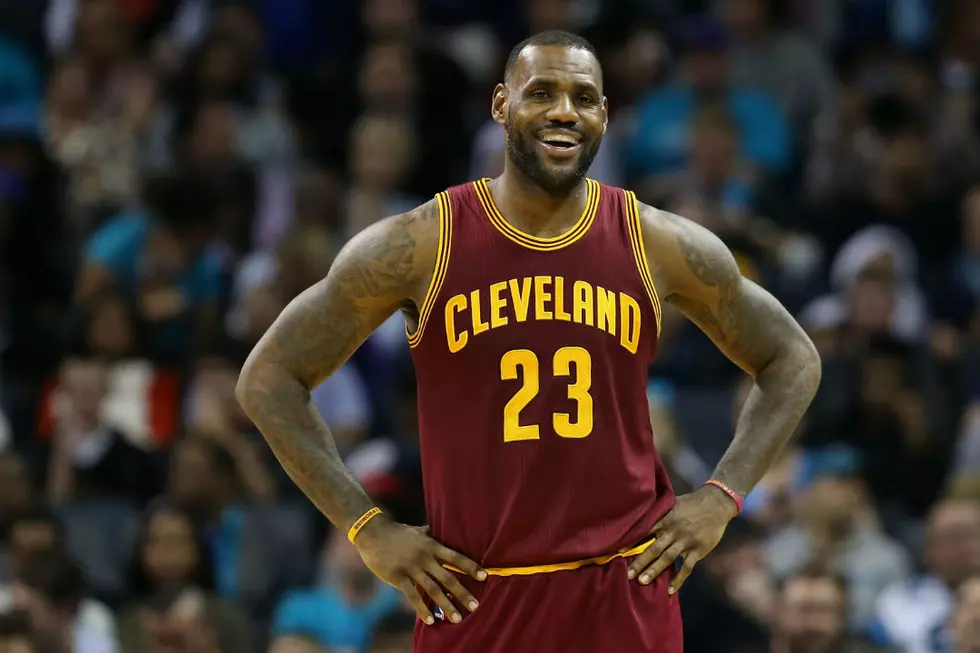 LeBron James Unveils 'Unbreakable' Playlist Featuring Big Sean, Drake and More
Streeter Lecka, Getty Images
Over the summer, Nike and the NBA introduced the future of fan apparel with the very first NBA Connected jersey. Allowing basketball fans to access player stats, product and exclusive content via the NikeConnect logo on the jersey's tag, the Swoosh and the NBA are providing fans with the ultimate fan experience from their smartphones.
Taking the NikeConnect technology a step further, Nike and Apple introduce the very first athlete playlist via the premium NBA jerseys today (Dec. 12). Tapping NBA superstar LeBron James to help curate the first playlist of its kind, the King creates a hip-hop-infused playlist that gets him in the zone as he preps for his games. Dubbed the Unbreakable playlist, LeBron's selections include music from artists like Big Sean, Drake, JAY-Z, Big K.R.I.T., Migos and more.
Hip-hop has always been woven into the culture of basketball and LeBron is perhaps the biggest bridge between the two art forms. Known to share his love for hip-hop via social media with exclusive premieres from the biggest rappers in the game, LeBron has become the ambassador of hip-hop for the NBA.
Fans with Cleveland Cavaliers and LeBron James' jerseys can unlock LeBron's Unbreakable playlist through the combination of the jersey, a smartphone and the NikeConnect app.
Available now on NikeConnect and Apple Music, check out the King's track selections below.
LeBron James' Unbreakable Playlist
1. Big Sean and Metro Boomin "Go Legend" Featuring Travis Scott
2. Offset and Metro Boomin "Ric Flair Drip"
3. Big K.R.I.T. "Big Bank" Featuring T.I.
4. Chris Brown "High End" Featuring Future and Young Thug
5. Migos, Nicki Minaj and Cardi B "MotorSport"
6. GoldLink "Crew (Remix)" Featuring Gucci Mane, Brent Faiyaz & Shy Glizzy
7. SZA "Love Galore" Featuring Travis Scott
8. Drake "No Long Talk" Featuring Giggs
9. Meek Mill "Glow Up"
10. 2 Chainz "Big Amount" Featuring Drake
11. Quality Control and Migos "Too Hotty"
12. Big K.R.I.T. "Confetti"
13. Drake "Pound Cake/Paris Morton Music 2" Featuring JAY-Z
14. The Notorious B.I.G. "Unbelievable"
15. Big Sean and Metro Boomin "Pull Up N Wreck" Featuring 21 Savage
16. Fabolous and Jadakiss "Soul Food"
See 40 Hip-Hop Albums Turning 20 in 2017