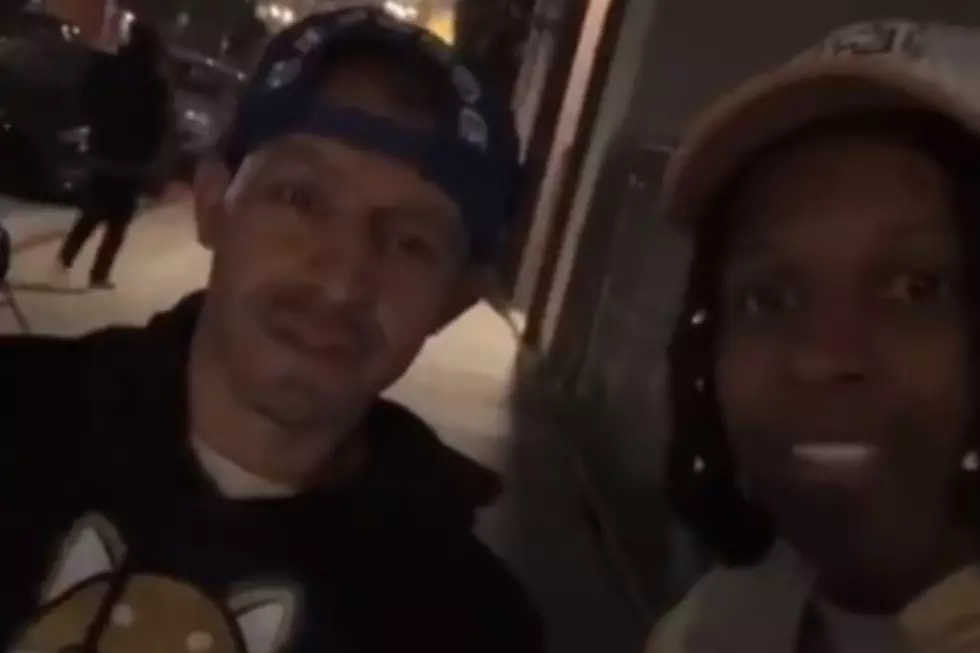 Lil Durk Finds Homeless Man Who Played Durk's 'All My Life' Video in Tent, Gives Man Hotel Room, Money and Phone
lildurk/Instagram
Lil Durk recently located the man who was seen in a viral clip watching Durkio's "All My Life" video in a tent on a sidewalk and gifted the transient money, a phone and a place to stay.
Lil Durk Finds Homeless Man Who Played His "All My Life" Video in Tent

Last night (May 31),
Lil Durk
went live on Instagram from Los Angeles. In the video, the Chicago rapper announced to fans that he had found the homeless man and was about to surprise the fan.
"I want to do something real special out the kindness of my heart," Lil Durk says in the video (below) before exiting his car. "The homeless guy who was playing 'All My Life' in the tent. I found him. Finna pull up on him."
Lil Durk then meets the man, who says his name is Pedro, and notifies Pedro that he comes bearing gifts.
"I got you a room for 30 days. I'ma give you a couple of dollars. I'ma give you a gift card and I'ma give you a phone for showing support," Durk reveals.
"I appreciate you a lot. That's actually helpful a lot," Pedro tells Lil Durk.
Homeless Man Goes Viral for Watching Lil Durk and J. Cole's "All My Life" Video in Tent
Last month, Los Angeles-based TikTok user adv.with.eli shared video of himself walking down a sidewalk in Hollywood when he spots Pedro in a tent on the sidewalk watching the video for Durk and J. Cole's latest hit on a projector screen. The video has garnered over 650,000 likes on TikTok. It is unclear how Durk was able to locate the man. There is a possibility he reached out to adv.with.eli to find the location.
Lil Durk dropped his new Almost Healed album om May 26. He is currently prepping his Sorry for the Drought Tour, which will also features Kodak Black, NLE Choppa and DD Osama.
Watch Lil Durk Gifting a Homeless Man Money, Hotel and a Phone Below
See the Most Expensive Rapper Homes Anyone Would Want to Live In
Homes owned by Future, Drake, YoungBoy Never Broke Again and more.