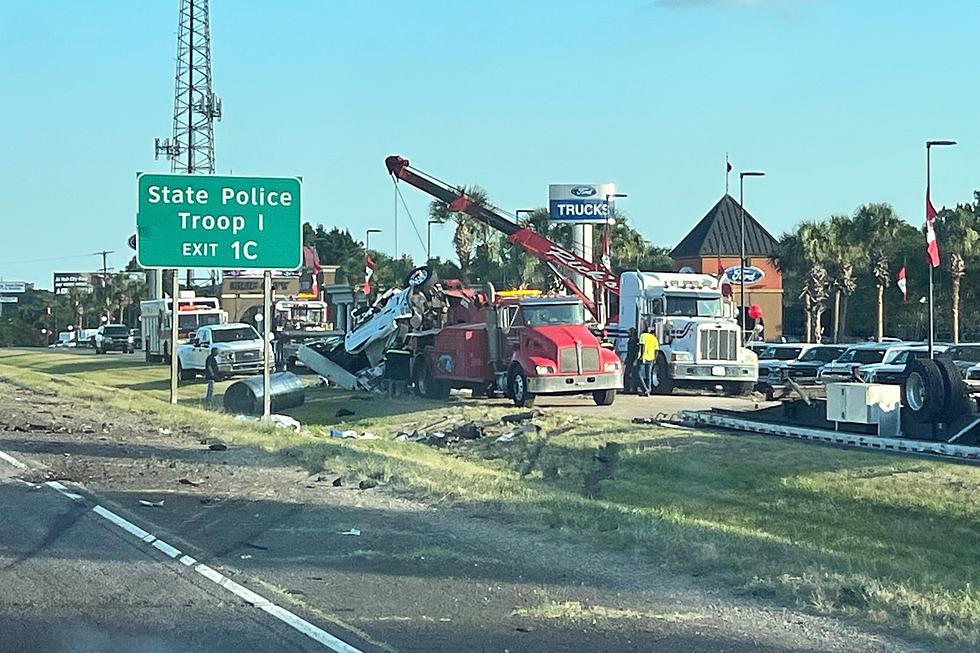 Major Crash Involving Flipped 18-Wheeler Causes Traffic Issues on I-49 in Upper Lafayette
Joe Cunningham
A major accident on Thursday afternoon resulted in traffic congestion on I-49 Southbound and the frontage road near Pont Des Mouton Road. The incident, which occurred at approximately 4:31 p.m., involved three vehicles: an 18-wheeler, an SUV, and a truck.
According to the Lafayette Police Department, the chain of events leading to the collision began when the 18-wheeler collided with the SUV from behind. The impact forced the SUV into the path of the truck, causing significant damage to all vehicles involved.
A KLFY News 10 report along with eyewitness photos details that the severity of the accident was evident as the 18-wheeler overturned onto the southbound frontage road, leading to the ejection of the driver. Emergency responders swiftly arrived at the scene and transported the driver to a nearby hospital with moderate injuries. Thankfully, the driver's condition is reported as stable.
At the time of reporting, which was 5:22 p.m., all lanes of I-49 had reopened, although traffic was still moving at a slow pace. However, it should be noted that the southbound frontage road remained closed until the 18-wheeler could be safely removed from the area.
Fortunately, there were no major injuries sustained by the drivers of the SUV and the truck involved in the accident. Additionally, no fatalities have been reported thus far.
Residents and commuters are advised to exercise caution and be prepared for delays when traveling through the affected area. Authorities continue to investigate the exact cause of the accident, and further updates will be provided as more information becomes available.
See the full story here via KLFY News 10.
LOOK: The 25 least expensive states to live in