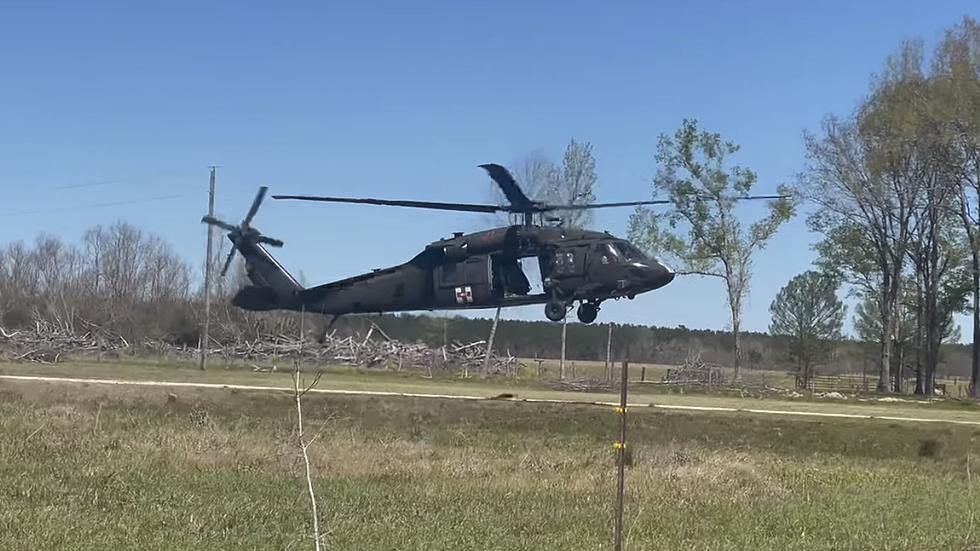 U.S. Military Investigating Site of F-16 Fighter Jet Crash in Beauregard Parish
Facebook via KPLC 7 News
Reports say that an F-16 fighter jet crashed down in rural Beauregard Parish today, with the pilot of the aircraft ejecting himself before the jet hit the ground. The jet involved was reportedly a part of the Oklahoma National Guard.
According to reports, an Oklahoma National Guard pilot is safe after ejecting himself out of an F-16 before it crashed down into the woods. The crash occurred in Beauregard Parish, with Fort Polk personnel responding.
Reports add that the plane was believed to have taken off from a joint reserve base south of Houston, TX. The jet was a part of the 138th Fighter Wing of the Oklahoma National Guard out of Tulsa.
The Beauregard Parish Sheriff's Office initially responded to the crash.
Military personnel are arriving on the scene to continue investigating the crash. See a helicopter landing near the crash site via KPLC 7 News on Facebook here.
See more regarding the location of the crash via Doug Warner KSLA on Facebook below.
See the report from KALB News Channel 5 on Facebook below.
LOOK: 100 years of American military history