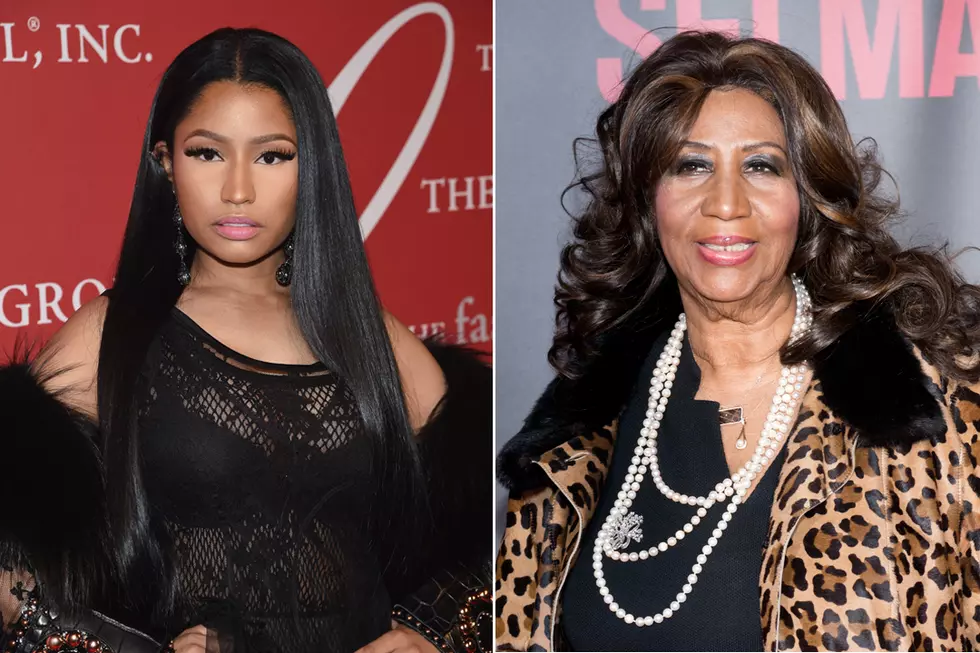 Nicki Minaj Twerks to Celebrate Breaking Aretha Franklin's Billboard Record
Jamie McCarthy/Noam Galai, Getty Images (2)
Nicki was overseas in London making a guest appearance at Drake's European Boy Meets World Tour when she first heard the news. Naturally, the raunchy Queens rapper celebrated her Hot 100 status in true Nicki fashion; by twerking in a leather skirt.
"When u find out u just became the only woman in the history of billboard to have 76 Hot 100 billboard entries," Nicki captioned the Instagram clip of herself twerking.
Nicki's three new songs, "No Frauds," featuring Lil' Wayne and Drake, "Changed It" featuring Lil' Wayne and "Regret in Your Tears," made their respective debuts on the chart this week after debuting earlier this month on March 10, effectively racking up Nicki Minaj's Hot 100 total to 76 entries. Before the March 20 chart, the Queen of Soul, Ms. Aretha, held the title with 73 entries. "No Frauds" debuted at No. 14, "Regret in Your Tears" debuted at No. 61 and finally "Changed It" came in at No. 71. These three new monster singles are great promo for Nicki's highly anticipated album and Nicki has already made a habit of performing her Remy Ma diss "No Frauds" while in Europe supporting Drizzy.
Enjoy Nicki's latest twerk session and check out XXL's supercut of her best booty-clapping moments over the years below. Congrats to Nicki!
See Photos of Nicki Minaj's Different Looks Over the Years