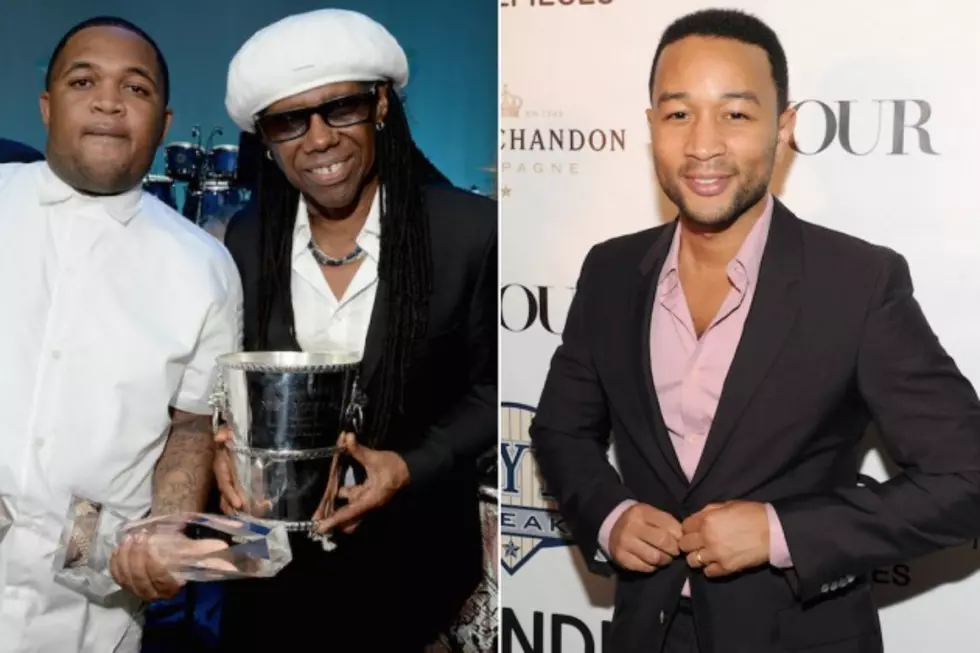 Nile Rodgers, DJ Mustard & John Legend Honored at 2015 BMI R&B/Hip-Hop Awards
Lester Cohen / Craig Barritt, Getty Images
Disco icon and musician Nile Rodgers was the recipient of the prestigious BMI Icon Award at the 2015 BMI R&B/Hip-Hop Awards in Los Angeles on Saturday (Aug. 29). Producer DJ Mustard and R&B piano John Legend was also honored at the event, which salutes songwriters, producers and publishers of the most-performed songs of the previous year.
DJ Mustard received a whopping 12 trophies for his string of chart-topping hits and was a double honoree as Songwriter and Producer of the Year. The latter honor marked the producer's second consecutive win of the coveted award. Meanwhile, John Legend's sumptuous ballad "All of Me" was awarded Song of the Year.
But the night belong to Rodgers who was honored for his long-standing career in music. As a co-founding member of the group Chic, he along with Bernard Edwards, ushered in the disco scene and created memorable dance hits, including "Good Times." He would later become a producer and blessed hundreds of music superstars (Madonna, Michael Jackson, Diana Ross, Daft Punk, among others) with chart-topping hits.
Rodgers received an hour-long tribute to him, which was led by music director/conductor Rickey Minor. R&B songbirds Kelly Price and Deborah Cox performed two of Diana Ross' biggest hits "Upside Down" and "I'm Coming Out," respectively. Kathy Sledge sung the classic anthem "We Are Family," while Empire's V. Bozeman's performed "I Want Your Love."
The tribute closed out with CeeLo Green's rendition of "Let's Dance" and Rodgers, himself, hitting the stage to perform "Good Times" and "Rappers Delight" with Public Enemy frontman Chuck D.
Congratulations to all of the BMI honorees. To check out photos from the event, head over to BMI.com.
Watch Nile Rodgers Interview at the 2015 BMI R&B/Hip-Hop Awards
10 Music Milestones From Great Black Artists