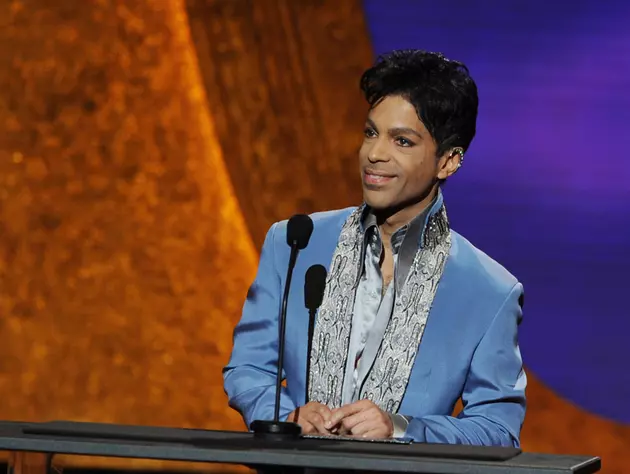 Prince's Most Memorable Hip-Hop Moments
Kevin Winter, Getty Images
A day after news broke that Prince was found dead, the world is still mourning the loss of the music legend. The singer, 57, was discovered dead at Paisley Park, the compound where he lived, recorded music and hosted parties and concerts. His death is currently under investigation by the Carver County Sheriff's Office.
"It is with profound sadness that I am confirming that the legendary, iconic performer Prince Rogers Nelson, has died," his publicist, Yvette Noel-Schure, said. "There are no further details as to the cause of death at this time."
Born in Minneapolis, Prince was one of the most illustrious musicians of all-time and a international superstar. He released 39 studio albums, his most prominent being his 1984 LP, Purple Rain, which was coupled with a semi-autobiographical movie of the same name (he won a an Academy Award for Best Original Song Score for the film in 1985). The Purple One earned seven Grammys, sold more than 100 million records and was inducted into the Rock and Roll Hall of Fame in 2004.
Fans everywhere have been mourning the icon's sudden death, especially in hip-hop. Throughout the years, the hip-hop community has embraced Prince, from sampling his music in songs to mentioning him in lyrics to performing with him at concerts. Throughout all of this, Prince has showed his appreciation for the genre and its artists in many ways. Here's his greatest hip-hop moments.
The Singer Once Fired Questlove From a DJ Gig

Last fall, on the day Pixar released the first trailer for the film Finding Dory, ?uestlove revisited a painful memory via Twitter. "Prince once fired me from a DJ gig in a nightclub, and instead blasted the Finding Nemo DVD on the screen," the producer, drummer and DJ said. The Roots member gave an in-depth look at that unfaithful night in 2004, and it was even brought to life in animated form. Watch the entire story below.

He's a Huge Kendrick Lamar Fan

Rapsody discussed how Prince was set to be a part of the record. "[Kendrick] said he wanted to talk about the beauty of black people. I told him to say no more," she said. "What tripped me out is Kendrick originally said that he didn't want to do a verse on there. He wanted me to do two verses and Prince to do the hook."

"That's true," Kendrick followed up. "Prince heard the record, loved the record and the concept of the record got us to talking. We got to a point where we were just talking in the studio and the more time that passed we realized we weren't recording anything. We just ran out of time, it's as simple as that."

The Purple One was also a huge fan of Kendrick's song "Alright" off T.P.A.B.

"He just has something he has to say," said the superstar artist. "It's pure. And with Thundercat on the album? Come on. You're not taking 'Alright' off my playlist!"

After Prince dropped two new albums—Art Official Age and PlectrumElectrum (the latter recorded with his band 3rdEyeGirl)—in 2014, the Artist Formerly Known as Prince held an album release party and brought out Kendrick Lamar to perform "What's My Name," a cut from 1998's Crystal Ball box set. K.Dot also performed a new verse for the occasion and it is rumored that both artists have an unreleased record together, which Prince's engineer previewed for the crowd that night.

Prince and Rita Ora Made a Rap Record Together

The Purple One and Rita Ora teamed up for a song that would potentially appear on Ora's upcoming album. On the new track, Prince reportedly drops some pretty aggressive bars.

The song was heard when the Purple Rain legend previewed new music at his Paisley Park Studio. The Minnesota Star Tribune described the record as "a rare rap song on which the music was as aggressive and menacing as the rapping."

Jeff Spicer, Getty Images

Jeff Spicer, Getty Images

He's Dropped a Few Rap Songs of His Own

Prince has released a number of rap records over the course of his career. There were songs such as "Sexy MF," "P Control" and "My Name Is Prince," to name a few. One of the most memorable tracks is "The Greatest Romance Ever Sold (Adam & Eve Remix)," which featured Eve. The effort appears on the singer's 1999 LP, Rave In2 the Joy Fantastic.

The Greatest Romance Ever Sold (Adam & Eve Remix)

The Greatest Romance Ever Sold (Adam & Eve Remix)

Q-Tip and Prince Had a Jam Session

During a show in which Q-Tip was performing his hit song "Vivrant Thing," the legendary singer hit the stage with the rapper to jam along with his guitar.

Kanye West and Prince Share the Stage in Sweden

In Sweden a few years ago, Kanye West joined Prince onstage at the Way Out West Festival. 'Ye got fans involved as he encouraged folks to get their hands up in the air.