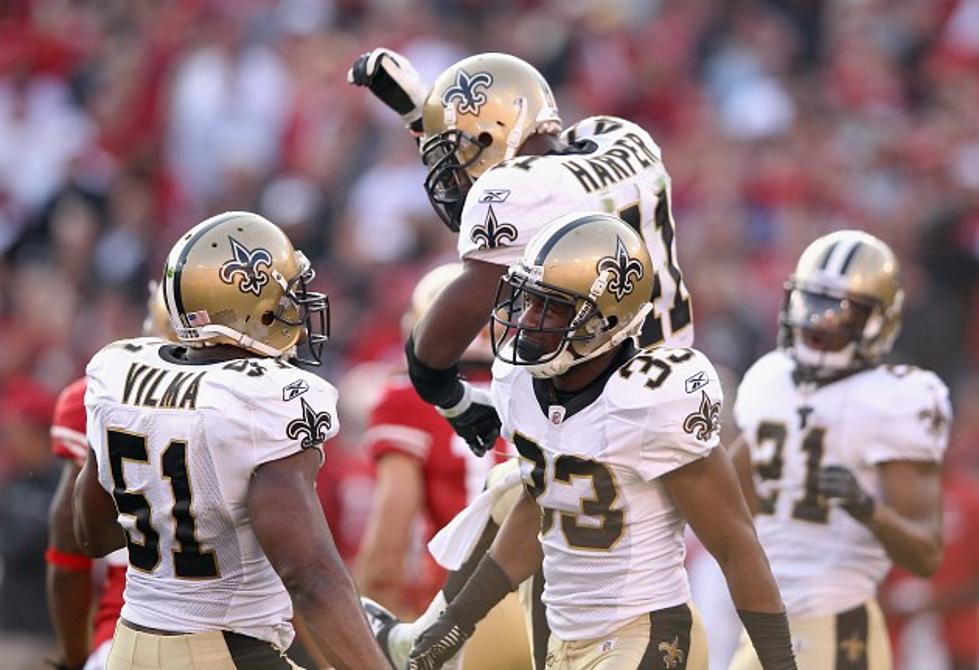 New Orleans Saints Part Ways With Roman Harper, Will Smith, Jonathan Vilma + Jabari Greer
Ezra Shaw, Getty Images
The New Orleans Saints have parted ways with veteran Super Bowl Champions Roman Harper, Will Smith, Jabari Greer and Jonathan Vilma in a move that put the Saints under the salary cap moving into 2014.
Saints VP/GM Mickey Loomis announced Wednesday that the contracts of Greer, Vilma, Smith and Harper have been terminated by the club.
Since we acquired them, Jabari, Roman, Will and Jonathan have all been excellent players on the field for us. Each of them were integral parts in turning this program around and winning a Super Bowl. They were a great example to our players as team leaders in the locker room as well. Will and Roman were two of the better draft picks we have made. Jonathan Vilma has been one of our best trades ever and Jabari Greer has been one of our best free agent signings. These are the kinds of players and people you hope to acquire. However, a new NFL year is about to begin and, with the start of free agency in March, these difficult moves allow us to position our team under the salary cap to move forward for 2014.
Saints head coach Sean Payton put all four veterans at the top of the list of the many players he has coached over the years.
Jabari, Roman, Will and Jonathan all represent and epitomize what we look for in our players. These are disciplined, smart, tough and team-oriented individuals. They all played an important role in helping this team and this city win its first Super Bowl and they have all enjoyed multiple playoff appearances and wins.
The move took the Saints from being $13.5M over the salary cap, to $3.35M under the cap as they still have to face the tasks of getting Jimmy Graham signed and improving in numerous positions on the field.
This bittersweet situation shows the Saints are indeed building toward the future of the program, but to see four integral members of the team that won the franchise's first-ever Super Bowl is almost heartbreaking for any real Saints fan.
Surely these decisions were tough to make, and though we have a lot of work left to do, this was a huge step that will help in the long run.
Currently, the Saints still have nine players on the roster from the Super Bowl year, but even that number isn't guaranteed to hold steady as Malcolm Jenkins, Zach Strief and Robert Meachem are all unrestricted free agents.
To the four veterans who were Saints for the last time today, you are part of Saints history, and the Who Dat Nation will never forget your contributions during the years you proudly wore black & gold.
Thank you, fellas. #WHODAT