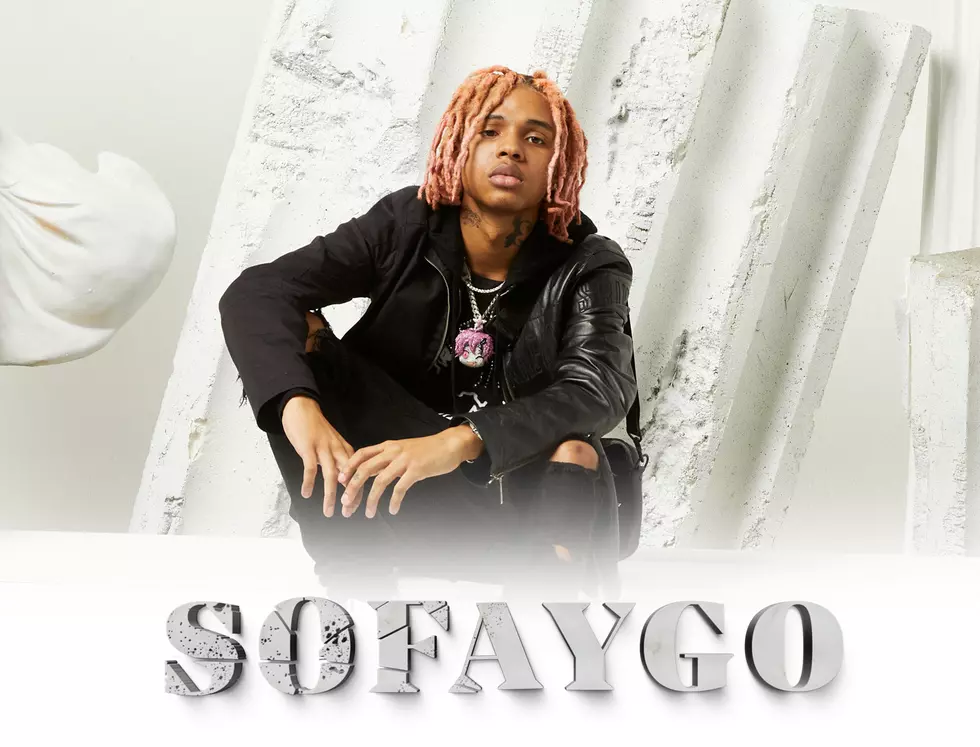 SoFaygo – 2022 XXL Freshman
SOFAYGO'S 2022 XXL FRESHMAN FREESTYLE
There is power in an artist visualizing their dream and seeing success before it happens. Self-belief is first, then action and commitment. For 20-year-old Atlanta artist SoFaygo, he checks all three boxes. The newly minted 2022 XXL Freshman believed he would be a famous artist before he even started creating. Now, he showcases his ability to deliver rhymes off the top in his Freshman freestyle.
Rising up from SoundCloud's underground scene, SoFaygo's popularity has only increased with his songs like "Knock Knock," racking up 183 million Spotify streams. But life isn't always sweet these days. "I just got a lot on my mind, I been thinkin'/I just pray a nigga don't drown in the deep end/'Cause I know a lotta niggas drowning and sinking," he raps in his freestyle.
Fame and success can be taxing, too, but SoFaygo is prepared for what comes next. Later on in his rhymes, he sums up his approach to his career: "I wanna be legendary, they wanna be poppin'."
Those thoughts of being legendary started early. Once his time came to start recording, the Grand Rapids, Mich.-born, Atlanta rep made his first song under his cousin's watchful eye in the fourth grade. SoFaygo embraced the moment and went full steam ahead with his family's support in tow. Thanks to a computer he got from his grandma in seventh grade and further stability by the time he reached 10th grade, SoFaygo's sound started to come together. He began blending trap and melody into his own unique sound.
In that same year of high school, he took his music to Triller and began to gain traction on the video app. The savvy move would pay dividends, considering how much of music's reach exists in the social media ecosystem. Then he graduated high school, and by 2019, SoFaygo decided to forego college. His decision to focus on a music career was starting to pay off. He initially gave himself a deadline and told his parents that if rap didn't work out for him in a year, he'd give it up.
Fortunately, 2019 was tremendous for SoFaygo since that's when he released his Lil Tecca-produced project War. In 2020, the rhymer dropped the Angelic 7 EP featuring "Knock Knock," with its catchy hook and out-there production (once again produced by Tecca). SoFaygo's social media momentum carried the song into 2021 and 2022, explaining it's incredible streaming numbers so far. 2020 is also the year he signed to Travis Scott's Cactus Jack Records, the label he released both his projects, Angelic 7 and After Me, on.
A mostly quiet 2021, where his only solo song release was the sweeping "Let's Lose Our Minds," sets the stage for a big 2022. His debut album, Pink Heartz, is on the way. Sticking to music through life's ups and downs and multiple relocations as a teen got him to the cover of XXL's 2022 Freshman issue. Now that he's getting to bask in the glory of his accomplishments, SoFaygo sees his future for what it is: the beginning of something special.
Watch SoFaygo's Freshman freestyle, powered by Puma, below.
—Robby Seabrook III
SOFAYGO'S ABCs
SOFAYGO, DOECHII, KAYCYY AND SAUCY SANTANA'S 2022 XXL FRESHMAN CYPHER
Tell the truth, this is what you've all been waiting for. Now, that the 2022 XXL Freshman Class is fully unsheathed, and the pleasantries of the Mean Comments, ABCs and individual freestyles are out of the way, it's time to get the finals: the 2022 XXL Freshman Cyphers. The first group of rappers from the new class that are ready to show and prove in the rap circle is Tampa, Fla. native Doechii, Atlanta's SoFaygo, KayCyy from Kenya and St. Paul, Minn., and Saucy Santana, who calls Bridgeport, Conn. and Perry, Fla. home.
It all starts with a fire track, and one of the hottest producers in the game has provided that this year. Platinum-selling producer Wheezy Outta Here, the man behind hits like Gunna and Future's "Pushin P," Young Thug's "Hot" and YSL's "Ski," supplied a bevy of fire tracks to choose from. The first group picked a banger with pulsing synths and deep bass as their palette.
Ladies first. Doechii, the self-proclaimed "Swamp Princess," proves she's not to be played with. "Ooh shit, ooh nana/Tell 'em make room when a real bitch fly by," she spits. "If Doechii on the list than it's thicker than a Popeyes/Flick of the wrist will get you gone, bitch, bye bye/Made $1 million in a month like voila/Niggas switching gangs, bandanas looking tie-dye/In The Shade Room, but the shades ain't Prada."
Next up, Travis Scott's Cactus Jack Records signee SoFaygo is operating in the flex zone for his cypher contribution. Taking his time, So slow-flows over the spacey soundscape. "Topic discussion, whoa/I do this shit just like it's nothing, whoa," he raps. "Come get that bitch that you cuffin', whoa/Ice on my wrist and it's bussin', whoa/Ice on my neck and it's bussin'."
Minnesota's KayCyy, by way of Kenya, is third up to the plate. Despite cosigns from Kanye West and Drake, the young rapper is still fighting for respect. He comes off the dome with a freestyle about his underdog status. "More money, more problems, that's certainty/I came in the game and it's urgent/I came in the game and it's promising (Yeah, let's do it)," he delivers. "I don't got time for the other shit/I don't time for the nonsense/Yeah, I don't got time for the drama shit."
Saucy Santana is dripping swag while batting cleanup. "I'm rockin' with Gucci, Emilio Pucci/Bitches my kids, baby mama coochie," he rhymes. "Go against me you must be stupid/When you rap, my ears is muted/Niggas is strapped, they zooted and booted/Looking for love and trying cupid."
Watch Doechii, SoFaygo, KayCyy and Saucy Santana's 2022 XXL Freshman cypher below.
—C. Vernon Coleman II
See Every Artist in the 2022 XXL Freshman Class
Which rapper is your favorite?