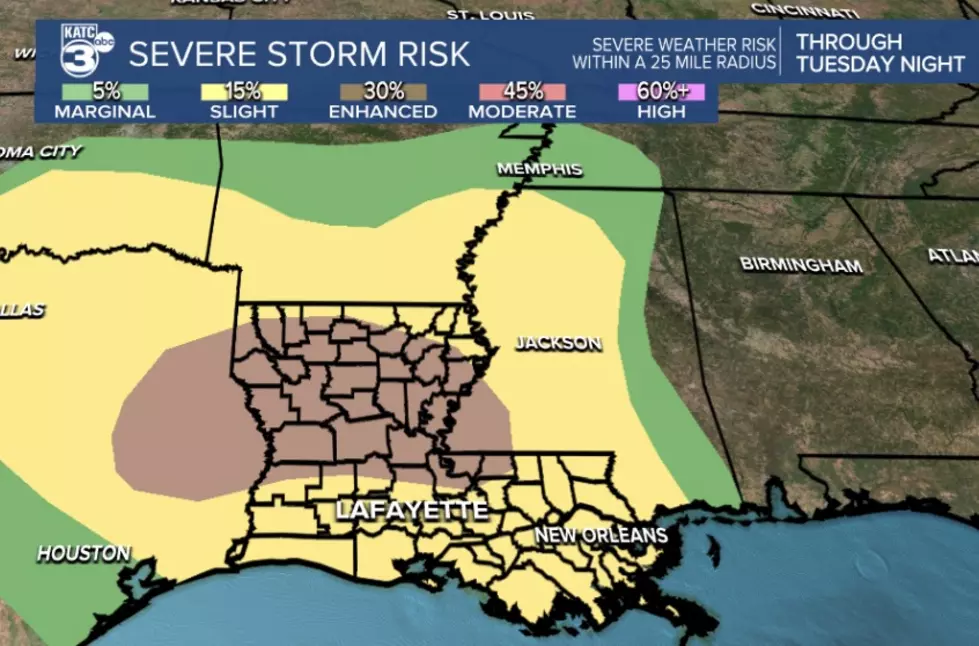 Storms Approaching South Louisiana Could Severe Tuesday Night, Into Wednesday Morning
KATC-TV 3
You'll certainly want to be weather-aware for the next few days if you're in south Louisiana.
A line of severe thunderstorms is moving ahead of another cold front and much of south Louisiana is within the slight-to-enhanced risk for severe weather,
According to our media partners in the KATC Weather Lab, "The threat of severe storms Tuesday into Wednesday with the primary severe weather threat locally in Acadiana primarily from Tuesday evening through midday Wednesday."
Most of Acadiana could see a couple of inches of rain, which could cause some flash flooding in the area, by Wednesday morning.
The line of storms approaching may slow down over much of Acadiana, thus dropping up to 3-5 inches of rain in some areas.
Rob Perillo says, "The parishes at greatest risk of severe weather storms looks to be from Allen, Evangeline and St Landry parishes on northward."
Still, we will all need to monitor the weather tonight (Tues night) and into early Wednesday morning.
Due to storms possibly stalling over the area, the National Weather Service has issued a flash flood watch for all of Acadiana from Tuesday evening through Wednesday afternoon.
Mixed in with the threat of flooding in Acadiana is also the chance of tornadoes forming over the area as well. Thus, if you live in a structure that may not be safe to be in with such a threat in your area, you may want to make plans to relocate.
We remind you, if you see standing water in the roadway, turn around and please do not drive across flooded roadways.
We will be providing you with the latest weather information in the days ahead on-air and via this station's mobile app.
For more on the potential threat of storms in the area, you can visit KATC Weather.
5 Mousetrap Baits That Aren't Cheese