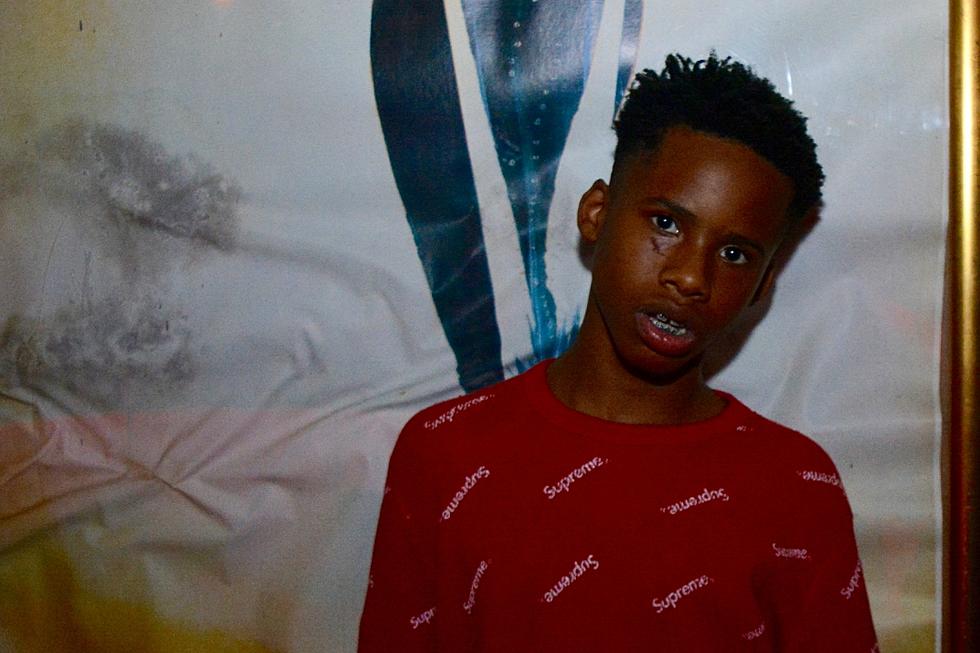 Tay-K Appears to Wear Anti-Suicide Smock in Latest Jail Photo
Brandon Smith
While all of his co-defendants have struck plea deals, Tay-K appears to remain steadfast with his not-guilty plea in the 2016 murder of Ethan Walker and other crimes. The prison he is located at seems to think the rapper might be at risk of harming himself as he appears to be wearing an anti-suicide smock in his latest jailhouse photo.
On Saturday (Feb. 23), a photo surfaced on Instagram that shows Tay-K, born Taymor Travon McIntyre, speaking on a jail phone. The main thing that sticks out in the photo is the garb he happens to be wearing that looks to be an anti-suicide smock.
According to a 2007 Slate article on the smocks they first came into use in California prisons in the 1980s. They are composed of quilted nylon Cordura, which make them, "so resilient they can't be torn, and so thick they can't be folded or rolled into cords. Since the shoulder seams unfasten under pressure, the armholes can't be used as makeshift nooses, either."
This isn't the first jailhouse photo of the embattled rapper that has made its way to the internet. Last August, another photo surfaced that showed Tay-K posted up in his cell. In that photo, he was wearing a customary green jumpsuit.
Tay-K's future is currently in limbo as he faces felony charges for his involvement in the shooting death of Ethan Miller. After jumping bail on that case, he infamously released the video for the track "The Race" while on the run. Also while on the run, police believe Tay-K killed 23-year-old Mark Saldiva at a Chic-fil-A in San Antonio, Texas and committed aggravated assault on a 65-year-old man in an Arlington, Texas park. He has also been hit with additional charges while incarcerated for having a cellphone.
All of Tay-K's accomplices in the Miller murder have taken plea deals. In November 2018, Jalen Bell pleaded guilty to two counts of aggravated robbery in the home invasion that resulted in the shooting death.
See Tay-K's latest jail photo below.
See 22 Hip-Hop-Related Police Raids