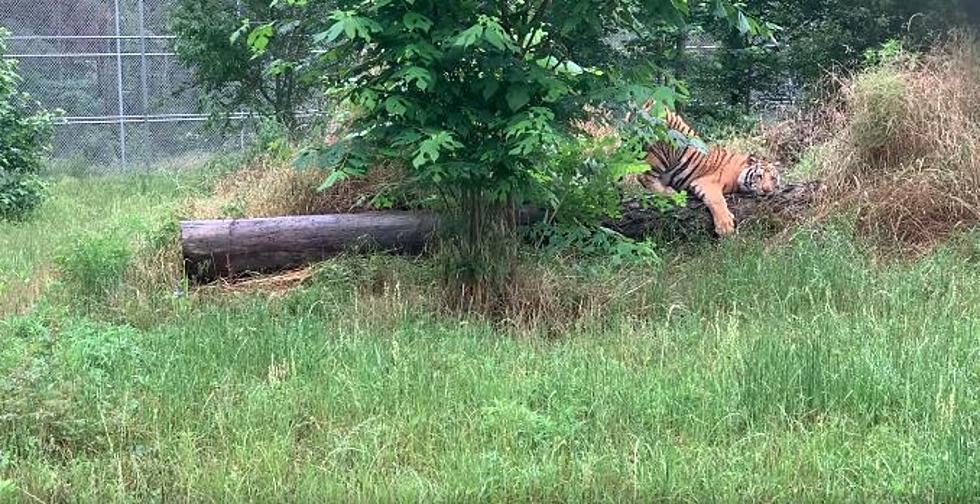 Tiger That Roamed Houston Neighborhood Gets New Home at Animal Sanctuary
Cleveland Amory Black Beauty Ranch
The Bengal tiger that was roaming a neighborhood in Houston for several days earlier this month now has a new home.
India the tiger has been taken to the Cleveland Amory Black Beauty Ranch, an animal sanctuary in Murchison, Texas, about 90 minutes east of Dallas. The facility is part of the Humane Society of the United States.
As you may recall, India was being kept as a pet, which is illegal.
He arrived at his new home on May 15. After a short stay in a temporary habitat to acclimate, he was introduced to his new home on May 22.
India's new digs include a water feature, lush plants, and toys. And while at the ranch, India "will enjoy a proper diet, enrichment and an expansive naturally wooded habitat," the Cleveland Amory Black Beauty Ranch said in a statement.
"He already found a large log that is clearly his favorite and enjoys stretching, scratching, and marking his scent. He bounces around the habitat exploring all of the new smells and stalking his toys in the thick tall grass, illustrating his wild instincts," said Noelle Almrud, the senior director of Black Beauty.
WATCH OUT: These are the deadliest animals in the world