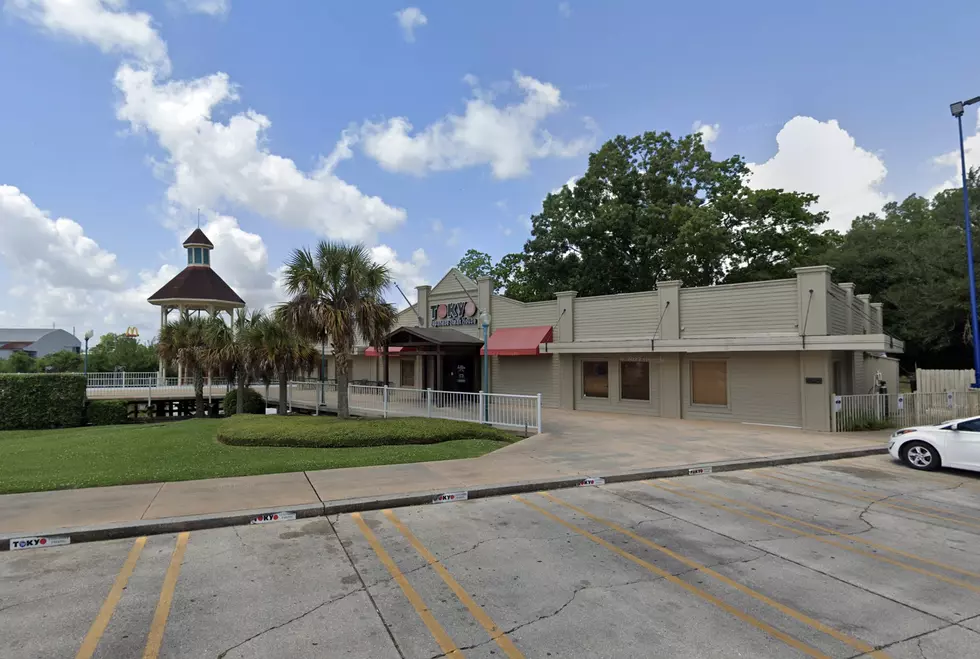 New Iberia Restaurant Receives Alarming Inspection Report After Multiple Customers Complain They Got Sick After Eating There
Google Maps
A local Japanese steakhouse and sushi bar in New Iberia has received major violations after the Louisiana Board of Health received complaints from customers who say they got sick after eating food from the restaurant.
Back on July 29, a Facebook user by the name of Mandy Lou took to social media to put out a PSA that she and a few friends got sick after ordering food from Tokyo Japanese Steakhouse & Sushi Bar in New Iberia.
She complained about alleged cross-contamination and seemed to state that it was a known issue when she contacted the restaurant.
Soon, comments began to pour in with numerous others complaining that they also became ill after eating at the restaurant.
One pregnant woman claims that everyone in her party who ate food from Tokyo in New Iberia was "deathly ill" and "projectile" vomiting until 2 a.m. in the morning.
More and more people complained about getting sick after eating from the New Iberia establishment and it was soon realized that this wasn't just an isolated incident.
A woman claiming to be a manager at the steakhouse apologized under Mandy Lou's post complaining about the restaurant and offered to resolve the issue as her staff was looking into any potential issues that may have caused diners to be so sick.
By that time, complaints were already made to the Louisiana Board of Health, and a violation was already posted.
The Louisiana Board of Health has an Eat Safe Louisiana initiative that allows citizens and visitors in our state to view restaurant inspections that are posted publicly. This transparency "enables the public to make informed decisions as food consumers."
The complete history of every establishment's inspection reports is available and the site makes an important note that the history is important due to the fact that one inspection is "just a snapshot in time" and "not always reflective of the day-to-day operations and overall condition of a restaurant."
Establishments are inspected on a risk category basis. This means that categories are assigned, and inspections performed one (1) to four (4) times per year, based on the type of operation. For example, a concession stand serving only popcorn and nachos would not be visited as often as a full service restaurant, which prepares many types of food. Inspectors do not announce their visits unless a time frame for compliance is given, and a re - inspection would be performed. Establishments are assigned one of four types of inspections: Routine, Re-inspection, Pre-opening or Complaint.
According to the Inspection Overview, there are only two main categories of violations.
Violations fall into two main categories, (1) Critical, (2) non-Critical. Critical violations, if left uncorrected, are more likely to directly contribute to food contamination or illness. Non-Critical violations are not directly related to the cause of food-borne illness, but if left uncorrected, could become critical.
To ensure accuracy, the site also puts a seven-day delay on reports to make sure they are as accurate as possible before being made available for public viewing.
An inspection report that was completed on July 29th at the establishment located at 1000 Parkview Drive in New Iberia (Tokyo Japanese Steakhouse) had an extensive list of critical violations that included multiple instances of food being prepared, packaged, or held under unsanitary conditions where it may have been "rendered injurious to health."
Exposed food, multiple instances of cross-contamination, and roaches in a tall stand-up cooler were just some of the more alarming critical violations on the report.
In addition to the food violations along with insects and rodents on-premises, a list of non-critical violations didn't help the restaurant's case at all when it came to the unsanitary conditions that were flagged during the inspection.
According to this Facebook update from the restaurant on social media (that has since been deleted), the restaurant announced they were closed for renovations.
Angry customers who got sick after dining in were steadfast in calling out Tokyo Japanese Steakhouse & Sushi in the comments after viewing the damning report from the Board of Health.
The restaurant was also listed as closed on the Waitr food delivery app.
We reached out to the restaurant numerous times for comment during the listed business hours and there was no answer. Listeners who messaged us about the issues at the restaurant told us they walked by last week and saw the "front doors open and they had a water hose going inside and cleaning the floor."
Let's hope that this restaurant is able to get things back up to code so that no one gets sick again.
We'll update this story when and if any new developments are confirmed.
LOOK: Here Are 30 Foods That Are Poisonous to Dogs
To prepare yourself for a potential incident, always keep your vet's phone number handy, along with an after-hours clinic you can call in an emergency. The ASPCA Animal Poison Control Center also has a hotline you can call at (888) 426-4435 for advice.
Even with all of these resources, however, the best cure for food poisoning is preventing it in the first place. To give you an idea of what human foods can be dangerous, Stacker has put together a slideshow of 30 common foods to avoid. Take a look to see if there are any that surprise you.