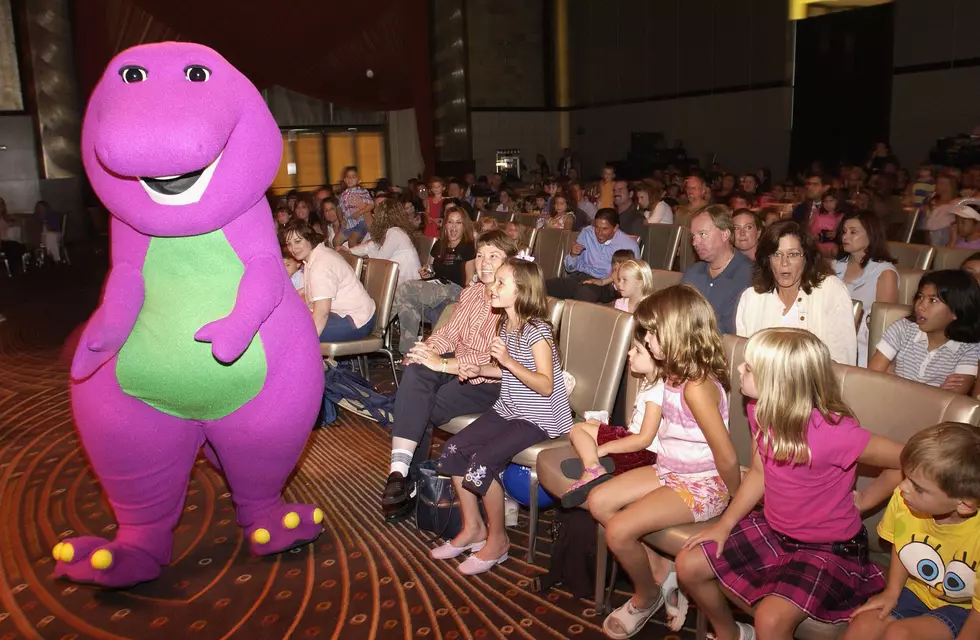 TV Icon Barney Has a New Documentary Coming Exposing its Dark Side(Video)
(Photo by Vince Bucci/Getty Images)
"I love you, you love me, we're a happy family, with a great big hug and a kiss from me to you won't you say you love me too?" has to be one of the most iconic set of lyrics in tv history. And if you don't know, those iconic lyrics come from the children's show, Barney & Friends
Barney & Friends was a children's show that ran on PBS from April 6th, 1992 to November 2nd, 2010. The show was created by Dallas Texan Sheryl Leach. Children everywhere fell in love with the purple dinosaur Barney, the green triceratops Baby-Bop, the yellow protoceratops BJ and the rest of his friends animal and human alike. However, it turns out that Barney & Friends had a dark side. NBC's streaming service Peacock is getting ready to release "I Love You, You Hate Me" on October 12th about the side of Barney & Friends we never got to see.
The documentary will focus on the dark side of having a show as popular as Barney. It will look at the terrible rumors that started to follow the show for example that Barney hid drugs in his tail. It will also cover the countless death threats and threats of violence to the cast and members of the show. The docu-series will ask why something so beloved, and inherently positive generated so much hate.
I for one am intrigued beyond belief because I never knew Barney had a dark side. To see in the trailer that the man who played Barney received death threats to not just him but his family as well is heartbreaking. So this is a fascinating tale that we can watch together as a family starting on October 12th.
PS. Side note, this writer had a shot at being on Barney. When I was 5, my mother took me to the mall where they were holding auditions for a new kid to join the cast. All I had to do was sing the iconic I love you, you love me a song. I knew that song frontwards and backwards, and would sing it every day. But on this one day my mom, grandma, and aunt couldn't get me to sing this song for love or money. The casting director said I was perfect for the role looks wise and if I nailed the song it was basically my role. However, I wouldn't sing the song. How lame of me; however, maybe it was a good thing because now I'm not tied up in all of this darkness that followed Barney. However, if I had a time machine I would definitely make little me sing the song.
Eight Items In Every South Louisiana Pantry