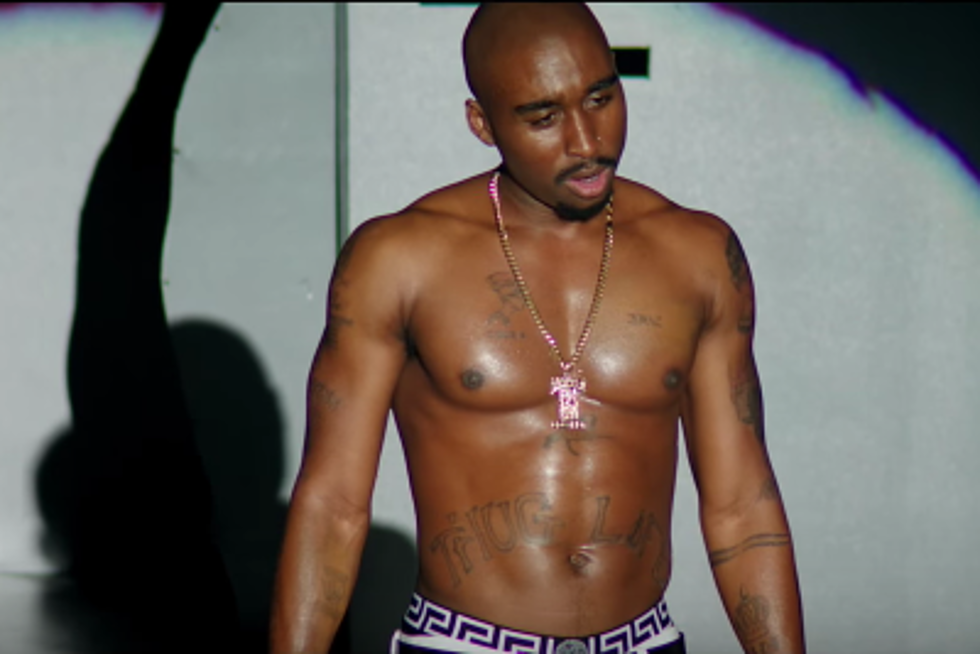 Twitter Reacts After Seeing the Trailer for Tupac Shakur Biopic 'All Eyez on Me'
YouTube
Tupac fans, rejoice! The first official trailer for the Tupac Shakur biopic, All Eyez on Me, dropped yesterday (June 16) on what would have been the rapper's 45th birthday. After years of setbacks and directorial changes, the celebrated West Coast legend is finally getting his own full-length biopic released in theaters. With director Benny Boom at the helm and Hollywood newcomer Demetrius Shipp Jr. playing the legendary 'Pac, the project is set to be one of the biggest blockbusters of the year. Once the trailer for the biopic, which is expected to arrive this November, was released, everyone was quick to chime in with their two cents.
As the minute-long clip opens, a crowd of adoring fans are chanting Pac's name as the voice of Danai Gurira (The Walking Dead), who plays 'Pac's mother, Afeni, is heard giving a warn to the MC. "Son, this ain't just about you. Like all black men, you have a bullseye on your back," she says. "They are going to give you the tools that you need to destroy yourself." Then Shakur is shown leaving a private jet and being welcomed on the runway with a briefcase full of money. Check out the trailer here if you haven't already.
In addition to Demetrius Shipp Jr. in the lead role, the flick stars Kat Graham (The Vampire Diaries) as Jada Pinkett, Dominic L. Santana as Suge Knight and Jamal Woolward (Notorious) as Notorious B.I.G.
After the first official trailer to All Eyez on Me dropped, fans were immediate with their responses online. Some were hyped just to see a glimpse of the action while others were shocked at how uncanny the resemblance and body language was between Shipp and the real 'Pac. Take a look at what fans think of the All Eyez on Me trailer so far in the gallery above.