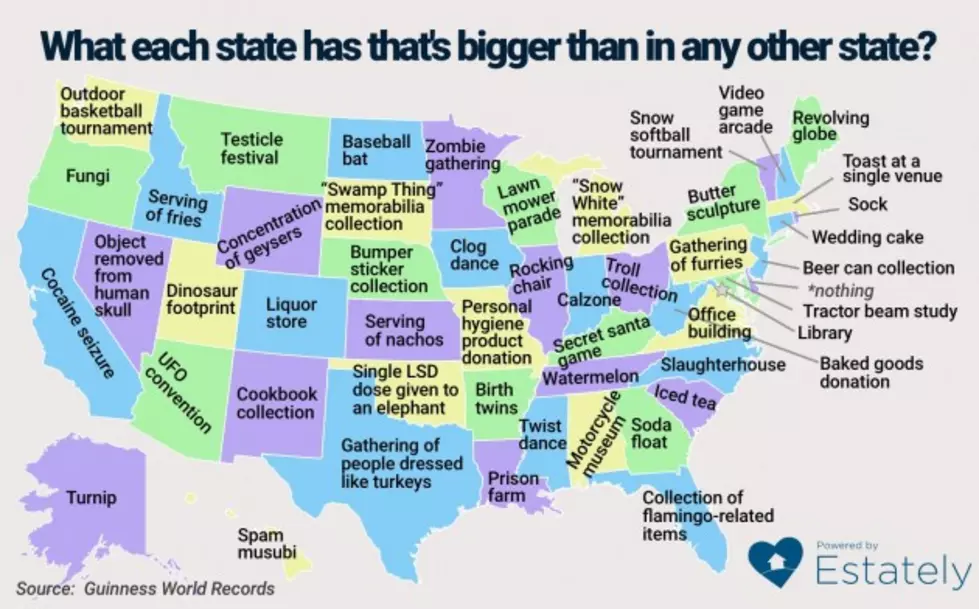 What's Bigger in Louisiana Than in Any Other State? Prison.
Estately
The fact that Louisiana has the world's largest prison farm isn't all that shocking, considering our legal system's dirty little secret. Still, some of the other things on this list might surprise you.
Estately combed through thousands of Guinness World Records to find out what the "biggest" things are in each state. While Texas took the top spot for "Gathering of people dressed like turkeys" and Pennsylvania had the largest gathering of furries for reasons we don't really want to know about, our biggest claim to fame here in Louisiana is our giant, 18,000-acre prison farm at Angola.
Don't worry, though. The Bayou State isn't only defined by our crazy prison system. We're also home to the world's largest serving of gumbo because duh. We've also had the biggest jambalaya, the biggest king cake, and the biggest fruit cobbler, for some reason.
Other "biggest" things on Louisiana's list include: the biggest circus audience, toothpick sculpture, commercial heliport, and macaroni and cheese. And a voodoo doll, for obvious New Orleans reasons.
Laissez les bons temps rouler!