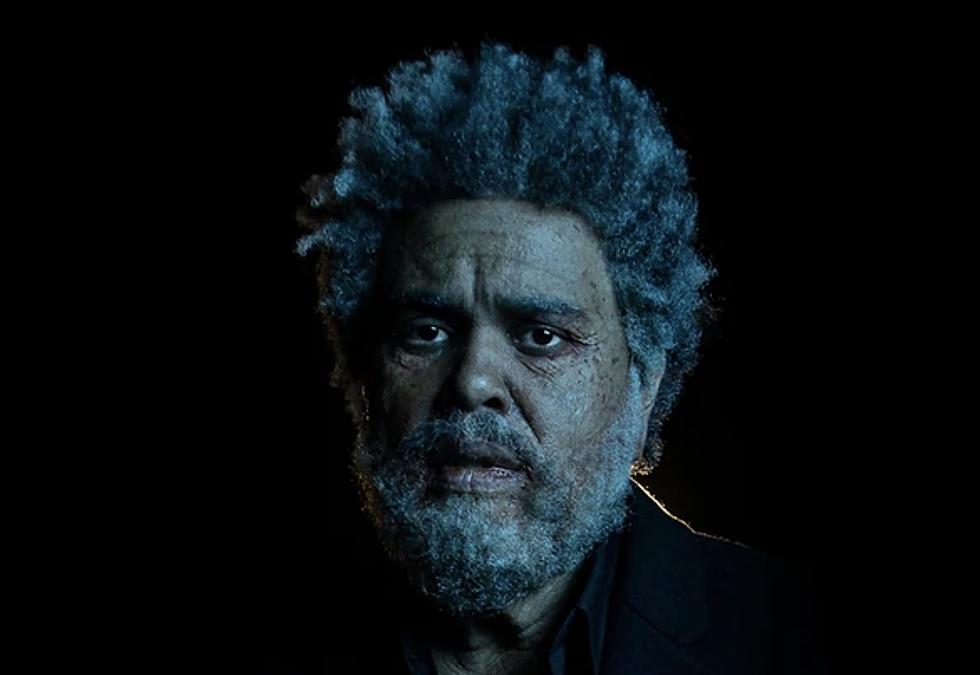 Why is The Weeknd an Old Man on His New 'Dawn FM' Album Cover?
The Weeknd 'Dawn FM'
With world-renowned artist The Weeknd putting out a new project, many of his biggest fans are piecing together why he is depicting himself as an old man in his album's cover art. While an explanation from the artist may never come, here is what some believe the artist is trying to portray in his latest work.
The Weeknd is one of the most puzzling and interesting talents in the music world. Although he has been in the game for a good chunk of time, he keeps pushing the envelope when it comes to reinventing himself and his sound as time passes.
His latest album, 'Dawn FM', closed out the first full week of 2022. Many fans are loving the new sound, but they can't help but wonder what this new era symbolizes. His new album cover shows him aged 40-ish years, and looking a little worse for wear. So, why is The Weeknd portraying an old man on this new album cover? Let's attempt piece this puzzle together.
Why is The Weeknd an old man on his new album cover?
Since the 'After Hours' era, fans and critics have been a bit puzzled when it came to The Weeknd's change in music and style choices. During this era, he seemed to become a method actor; not breaking this character he created for that album. He became a party-hard, constantly beat up man stumbling through days and nights of pure chaos. He appeared bloodied, bandaged, but still powering through somehow.
With 'Dawn FM', he seems to be going in the opposite direction in my opinion. Fans everywhere are running wild with theories on why he is seemingly aging himself. The album itself seems to be straying away from the fun and party aspect and more dealing with death and mortality. 'Dawn FM' is narrarated by Jim Carrey, who ends the album with a poetry piece titled 'Phantom Regret' -- speaking about how death is inevitable and not to be scared of the end.
Check out the poem for yourself via @theweeknd on Twitter.
As a fan of The Weeknd, I think he is re-enacting a life cycle of bad choices. In the end, it all ends the same: it ends. Life ends. Good or bad, we all have the same fate. 'Dawn FM' being the last piece before death comes knocking.
Other fans speculate that he is fighting death and fighting the inevitable. In his new music video for 'Gasoline', The Weeknd is absolutely pummeling the old man version of himself. Relentlessly and aggresively beating himself up, leading fans to belive that no matter what you do, you can't fight age and dying no matter what you do. 'Dawn FM' is symbolizing when you have to give in and accept your fate.
As a fan of The Weeknd, I am going to take this as a confirmation of another trilogy saga. It's going to be SUPER difficult, in my opinion, to top the first one. That introduced me to The Weeknd and I lived and breathed that album. Many fans are saying after the third album in this new trilogy that he will be retiring. I won't go that far. He has so much left to give that he hasn't done yet.
Whatever this new era means, I just know that The Weeknd will continue to make hit after hit and keep smashing the charts. One thing he is exceptional at is giving the world something they haven't heard before. The charts prove that he is doing something right.
Why do you think The Weeknd is an old man on his new album cover? Let us know your theories. Let your imagination run wild.
Some Common Myths about Louisiana Debunked