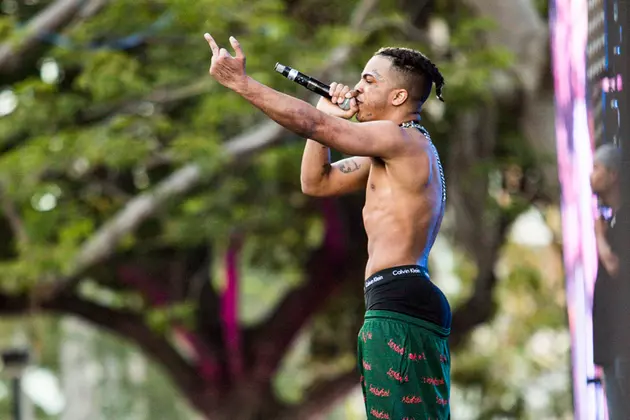 Fan Throws Dildo Onstage During XXXTentacion Performance
Michael Fequiere
It seems like every other day there is something out of the ordinary going down at a XXXTentacion show, and this week saw another one of those moments. The 2017 XXL Freshman was performing at a recent concert this week to a packed crowd, where a fan apparently threw a dildo at him on stage.
According to fan footage taken from the first few rows, the "Look At Me!" rapper was giving an enthusiastic show for his slew of fans, when an object was thrown onto the stage. Fans started calling out at XXXTentacion, who picked up the item and laughed after revealing that it was a dildo. It was a pretty hilarious moment, compared to some of the more controversial occurrences that have recently happened at the rapper's previous shows.
If you recall from earlier this month, XXXTentacion was knocked out on stage after being punched by an unidentified person that was originally believed to be part of Rob Stone's team. Stone later revealed that he was not involved in the incident, despite the two having a serious social media beef.
Last week, XXXTentacion also made headlines when video surfaced of the rapper being accidentally thrown into a barricade by his entourage, who were trying to swing him into the crowd. Fortunately, he wasn't too badly injured, as he was able to continue the performance for the rest of the evening.
See the footage of a fan throwing a dildo at XXXTentacion during his recent performance in the video below.
See 33 Rappers With Neck Tattoos