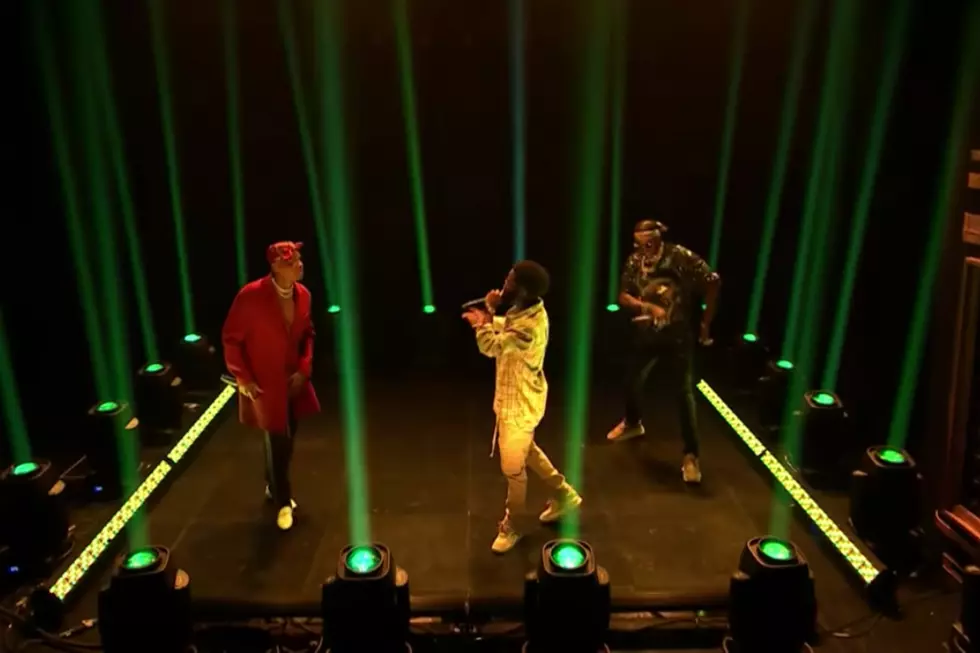 YG, 2 Chainz and Big Sean Perform "Big Bank" on 'The Tonight Show'
The Tonight Show Starring Jimmy Fallon via YouTube
In spite of his flight problems, YG made it to New York to perform "Big Bank" on The Tonight Show on Tuesday (Aug. 14).
The Compton rapper appeared with 2 Chainz and Big Sean, although the song's other featured guest, Nicki Minaj, was noticeably absent. The trio dutifully delivered the single on Jimmy Fallon's stage awash in multi-colored spotlights.
"Big Bank," featured on YG's two-week-old album Stay Dangerous, continues to climb the Hot 100, peaking at No. 16 on this week's chart dated Aug. 18. It's his highest-charting solo single and first Top 20 solo hit since 2013's "My Hitta."
The track has proved unexpectedly controversial. EA Sports included it on Madden NFL 19's soundtrack but censored a reference to national anthem-protesting quarterback Colin Kaepernick in Big Sean's verse: "Feed me to the wolves, now I lead the pack and shit/You boys all cap, I'm more Colin Kaepernick."
After fans, along with Sean and YG themselves, complained about the censorship, the video game company apologized, described the decision as a mistake, and uncensored the line in question.
YG's trip this week to New York, where Jimmy Fallon films his show, came with its own issues. American Airlines flight staff kicked the rapper off his flight out of Los Angeles International Airport on Monday (Aug. 13) and claimed he was intoxicated, which he denies.
Thankfully, YG found alternative travel plans. You can watch his performance of "Big Bank" with 2 Chainz and Big Sean on The Tonight Show below.
See Photos of Big Sean's Different Looks Over the Years