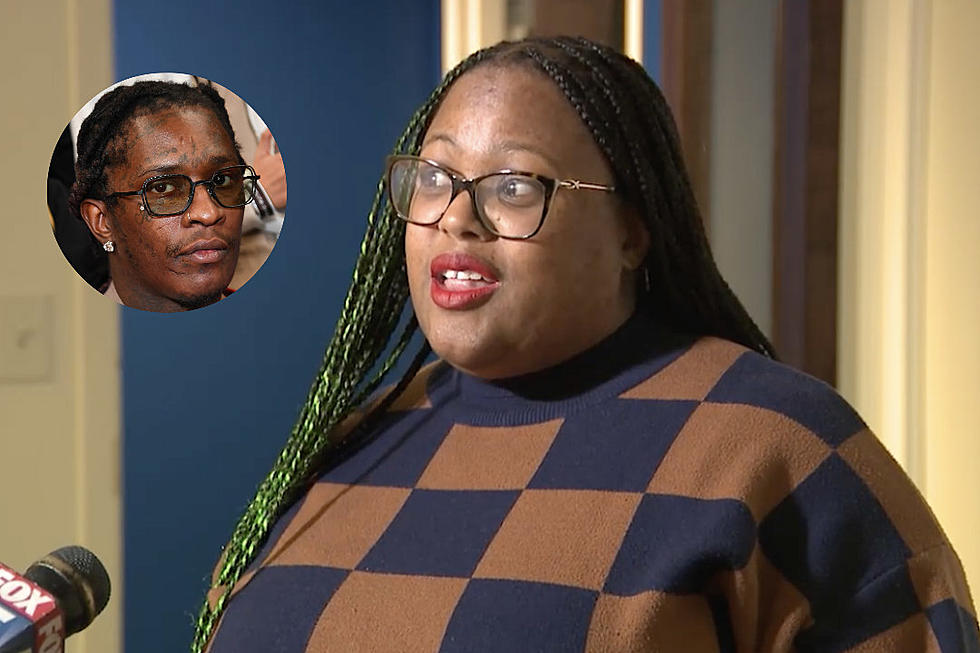 YSL Trial Lawyer Says She Might Start OnlyFans After Complaining of Poor Pay
Fox5Atlanta/Paras Griffin/Getty Images
A state-appointed attorney in the YSL RICO trial is claiming the pay is so poor she might have to take some drastic measures.
On Monday (May 1), local Atlanta news station WSB-TV reported on the latest update in the ongoing trial, which includes one public defender expressing major concern over the pay and the time it's going to take to try the case.
"This case is slated to last for about a year, and if you were to do the math, it would be six dollars an hour," defense attorney Angela D'Wiliams said. "I can't take any new cases. I can't close any cases. I need something to survive off of."
D'Willams is placing the blame on the Georgia Public Defender Council, which assigned her to defend one of Young Thug's codefendants, Rodalius Ryan, in the trial. She recently filed a motion to be removed from the case.
"We were under the impression that GPDC was advocating for us, and once they put those walls up, I'm thinking I need to start an OnlyFans," D'Williams said. "I asked for additional funds back in March, and that was met with a letter from the director saying she doesn't need to meet with me anymore. I need to know what she has done to advocate for the appointed counsel in this case."
However, the GPDC is countering D'Williams' claim, and have filed their own motion asking that she be removed from the case for another reason. The GPDC claims D'Williams' attempt to withdraw from the case was a ploy to get more money. They cite an alleged text message D'Williams sent to her colleagues that reads, "I filed a motion to withdraw as a way to force GPDC to pay me more money. Please don't help the judge grant my motion. The goal is to have the judge deny my motion. If the press asks, please do not say you hope the judge grants my motion."
XXL has reached out to the GPDC and Angela D'Williams for comment.
The YSL RICO case started back in January with jury selection. In four months, not a single juror has been chosen as both sides sift through hundreds of potential candidates. Young Thug is being charged with heading YSL, which authorities are calling a violent street gang. This is the latest in a string of wild happenings to come out of the YSL trial.
See 44 of the Longest Prison Bids in Hip-Hop History
C-Murder, Max B, B.G. and more.