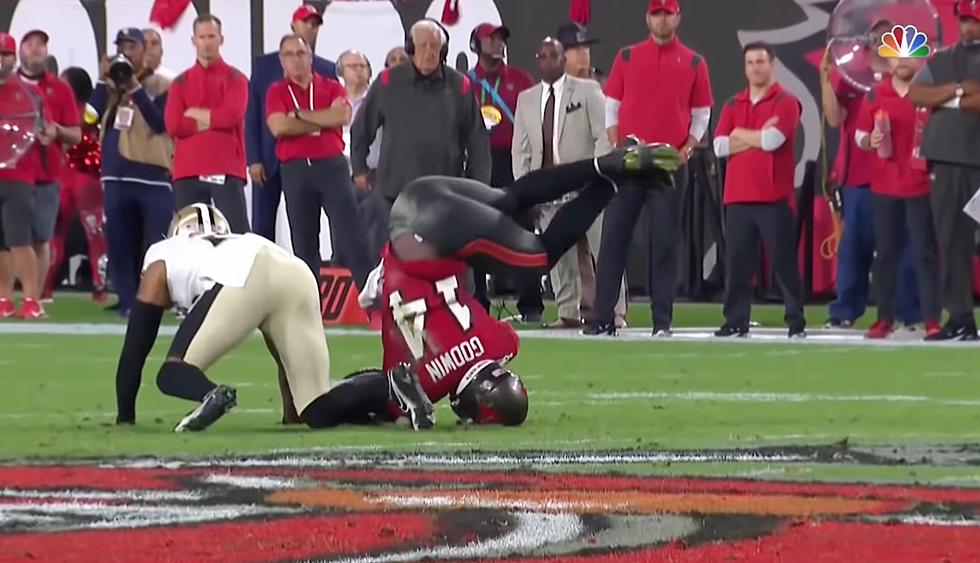 Bucs Fans Mad At Saints For "Dirty" Hit That Ended WR Chris Godwin's Season
Youtube, NBC
The New Orleans Saints took on the Tampa Bay Buccaneers Sunday night in prime time, coming away with a thrilling 9-0 victory.
The game was a shutout thanks to an amazing performance from the Saints' defensive unit—however, there was definitely controversy surrounding one play in particular.
Chris Godwin's Injury
Buccaneers wide receiver Chris Godwin went down after a "low" hit from Saints defensive back, PJ Williams. During the NBC broadcast, color analyst Cris Collinsworth shared his opinion on how he believed the play was a hit on a defenseless player and how low hits like those needed to be banned in the league.
Godwin never returned to the game, and earlier today it was reported that what was believed to be an MCL sprain was actually a torn ACL that would end his season for good.
This led Bucs fans to get extremely heated, with many claiming that the hit from Williams was "dirty."
Buccaneers Fan's Reaction To The Godwin Injury
Was The Hit On Chris Godwin Dirty?
Whether Bucs fans like hearing it or not, the hit from Williams was not dirty. If anything, it was a result of a rule that is simply broken and in need of reform. PJ Williams had nowhere else to hit Godwin because if he would have gone higher, he would have almost guaranteed a flag due to helmet-to-helmet contact rules or hitting a defenseless player.
If anyone is at fault here, it's the NFL due to the wording of their rules. Tampa Bay Buccaneers head coach Bruce Arians even echoed this sentiment by saying the hit wasn't dirty, confirming that he believed it was by the book.
What's funny (and more ironic than anything) is the fact that Bucs fans were quick to jump on the Saints for a legal hit that unfortunately took out one of their players for the rest of the season, seemingly forgetting what happened with Jameis Winston early in the season.
Devin White's horsecollar tackle on Jameis Winston during the Halloween game led to a season-ending injury for the Saints QB and all but derailed the season for the team. White was flagged for the illegal tackle that was dirtier and a lot less legal than the PJ Williams hit on Godwin.
SOCIAL MEDIA'S REACTION TO THE GODWIN INJURY
The NFL's rules on protecting your upper body and specifically the head have made defenders shift to tackling the lower body. But when you tackle the lower body, it results in more injuries in an area that players rely on to do their job in the NFL.
However, the flip side is that it is already so hard on the defense due to all of the rules made to protect the offensive players. The NFL wants to see more points and explosive plays but that has hindered defenders and how they can play their positions.
Thus, we are where we are now. Steelers safety, Minka Fitzpatrick went on the Rich Eisen Show to discuss how hard it is on defenders in this day and age and shared that he now believes it is a result of the flawed rule.
Now, let me be clear; I never want to see players get injured and I wish Chris Godwin a speedy recovery. I also hope he gets the bag next season regardless of his injury status because he is currently playing on the franchise tag.
But to say PJ Williams is "dirty" or made a "dirty" hit is just flat-out wrong. He made a legal football play. If there is any issue, that issue is with the NFL—not the Saints.
And truthfully, it's beyond time for the NFL to reexamine the rule as a whole.
7 Places to Find the Best Boudin in Acadiana