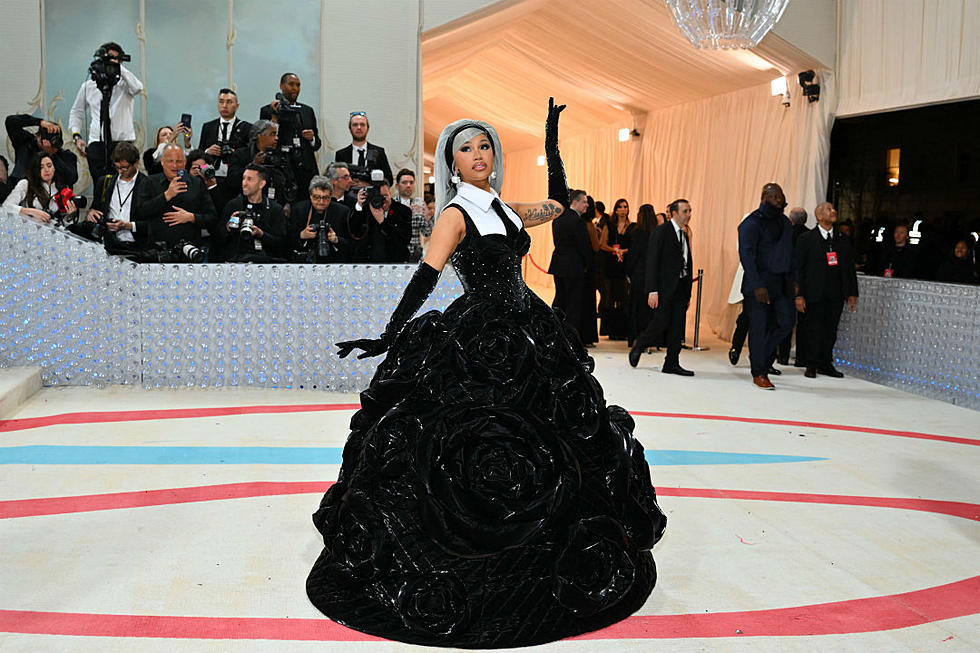 Cardi B Changes Outfits Three Times at 2023 Met Gala
Angela Weiss/Getty Images
Cardi B served not one but three different looks at last night's 2023 Met Gala.
The annual celebrity costume party/fundraiser went down last night (May 1) at the Metropolitan Museum of Art in Manhattan, N.Y. and brought out some of the biggest stars in the entertainment industry. Rap was well represented with artists like Dr. Dre, Pusha T, Jack Harlow, Ice Spice, Lil Nas X, A$AP Rocky, Diddy and more in attendance. Cardi B went the extra mile and wore three different outfits to the shindig.
Cardi B first stepped out in a pink strapless gown. The ornate getup featured a huge fabric rose that extended over her head. The "Money" rapper completed the outfit with a multi-layer pearl choker, matching bracelets and a pearl ornament on her head.
According to Harpers Bazaar, Cardi's second outfit was a black structured ballgown covered in rosettes created by Chenpeng Studio. The dress also featured a "quilted overlay a la Chanel's Boy Bag." Bardi accented the outfit with matching black gloves and huge pearl earrings. For her third act, Cardi busted out a tweed pink and black dress.
This year the Met Gala celebrated the opening of the Costume Institute exhibition "Karl Lagerfeld: A Line of Beauty," a homage to the famed designer who worked at fashion houses such as Balmain, Chloé, Fendi and Chanel. The dress code for this year's event was "in honor of Karl."
Cardi B wasn't the only rapper who turned heads. Doja Cat stole the show by using special effects prosthetics to appear as a real-life cat.
Check out Cardi B's looks from the 2023 Met Gala.
See Cardi B's Three Different Outfits at 2023 Met Gala