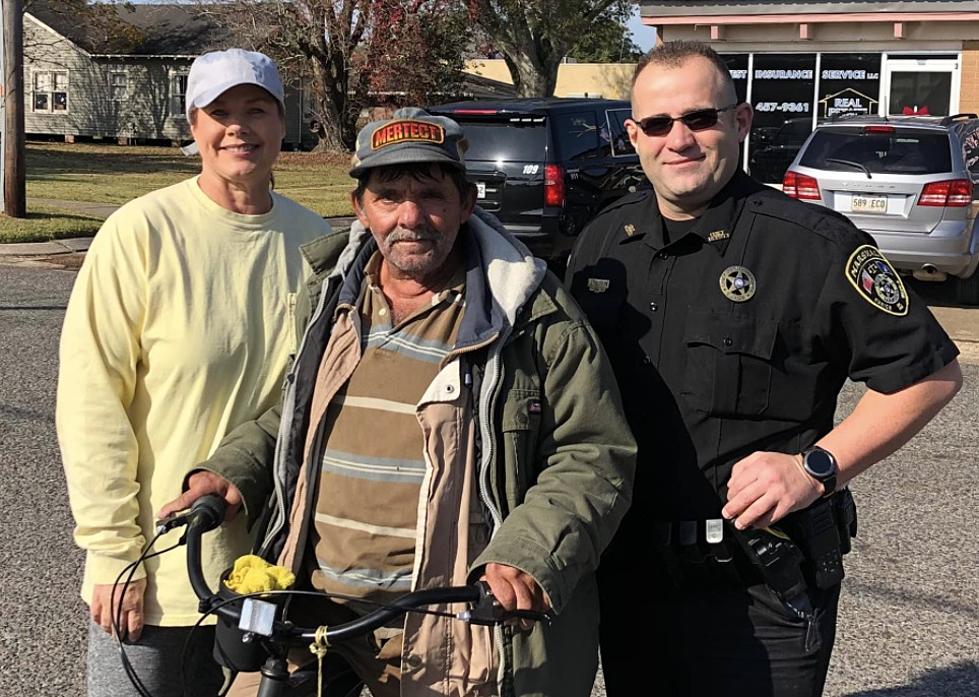 Citizens and Marshal's Office Come Together to Help Save Homeless Man in Eunice, Louisiana
Facebook via Gadrienne Ardoin
A Christmas miracle has happened in Eunice, Louisiana.
I recently had several people send me the story about a man named Charlie in Eunice, Louisiana and as I read more and more into his story, the more emotional the story became.
You see, Charlie was evicted from his rent house before Thanksgiving and had nowhere to go. All that he had was his truck and the clothes on his back.
So, he relocated to the Walmart parking lot in Eunice, where he'd call it home for months. Yes, Charlie has been sleeping in his truck for over two months now.
Knowing of his situation, those at Walmart would often drop off snacks for Charlie and even allow him to stay in the store during hours of operation.
But when it came time to lock the doors, Charlie only had one place to go, back into his broken-down truck.
Authorities in Eunice were aware of his situation and that is when they decided to help out their fellow citizen.
Terry Darbonne, the Eunice City Marshal, was the man who had to execute the eviction of Charlie, and as it would turn out, it would be Terry and his office that would perhaps save this man's life.
Knowing the winter months are approaching, Terry tells me that he and his officers feared that Charlie would freeze to death his truck. So they knew they had to do something fast.
Marshal Dardonne told me he put Charlie's story on social media and asked for help. Darbonne tells me that once Charlie's story went viral, the city of Eunice and those from surrounding communities answered the call.
A vacant apartment in an assisted living facility in Eunice was located for Charlie and now citizens are furnishing it for the man who was just days ago sleeping in his truck.
But there's more, an unidentified person in Eunice has stepped up and paid Charlie's rent for the entire year of 2022.
Gadrienne Ardoin, of Eunice, tells me, I'd bring him food and cash for him to eat or buy whatever he needed. He continually would ask me why I was helping him ..... cause it's Christmas, and I can."
I am told that when Charlie was informed about the blessings bestowed upon him he said, "Why did people do this for me, I didn't think anyone liked me?"
Charlie, people do like you and people want you to enjoy your own place. You deserve it.
If you'd like to donate to Charlie, you can contact Terry Darbonne at the Eunice City Marshal's Office at (337) 457-6580.
One more thing, a Christmas tree is on its way to Charlie's apartment, and presents will accompany the tree.
Merry Christmas, Charlie.
Louisiana Has 8th Most Underprivileged Children