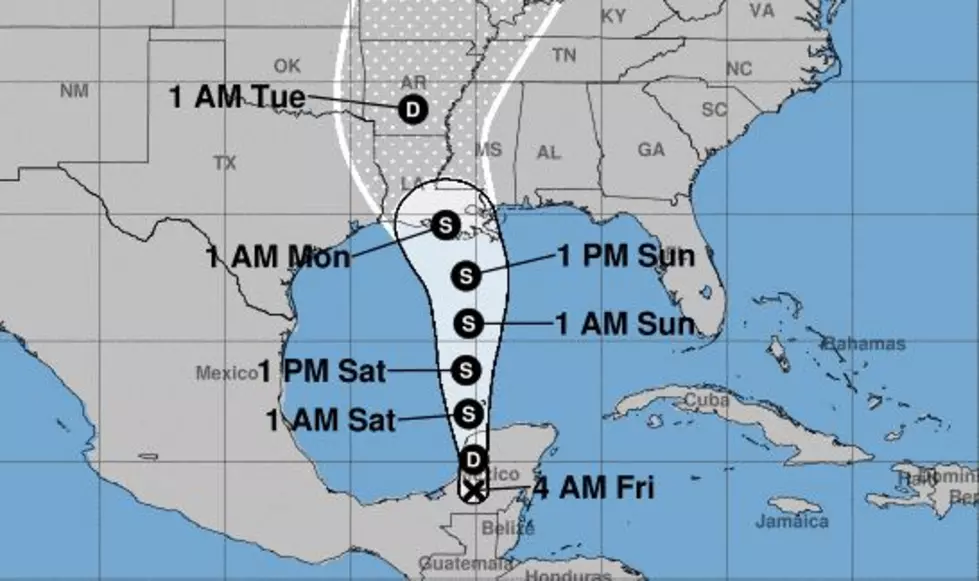 Cristobal Weakens, Still a Threat for Louisiana's Coast Sunday
nhc.noaa.gov
Tropical Depression Cristobal's center of circulation was still over land early this morning. In fact, the latest advisory from the National Hurricane Center (0400 CDT) suggests the system is now moving northward and is very disorganized but still a prodigious rainmaker over parts of Mexico and Central America.
The Hurricane Center's forecast team still believes that later today that center of circulation will be pulled into the Gulf of Mexico. That's where meteorologists believe Cristobal will have a chance to reorganize and strengthen.
Just how organized and how strong remains the big question. The forecast track for the storm still brings it onshore in coastal Louisiana sometime late on Sunday evening. Most model guidance and the official forecast from the NHC suggest that Cristobal will make landfall as a strong tropical storm although conditions in the Gulf of Mexico are not expected to support rapid intensification.
Most of the reliable tropical forecast models are tightly bunched around the National Hurricane Center forecast track. That track has shifted slightly east of Acadiana at landfall but the system is expected to take a northwesterly jog as it nears the coast.
Where that "jog" happens will determine just who in Louisiana might see the worst of the weather associated with the storm. However, you should be mindful that most of the stronger storms and heavier rains associated with Cristobal have been well away from the center of circulation.
Tropical Storm watches or warnings could be issued for parts of the Louisiana coast later today or tonight.
Our forecast does call for several inches of rain, mainly on Sunday and Monday as the system slides by the area. The biggest threat from Cristobal for Acadiana appears to be some storm surge along the coast and the potential for flash flooding. You also can't rule out a tropical funnel cloud or two with a landfalling tropical cyclone either.
10 Most Common Cajun Last Names in Louisiana