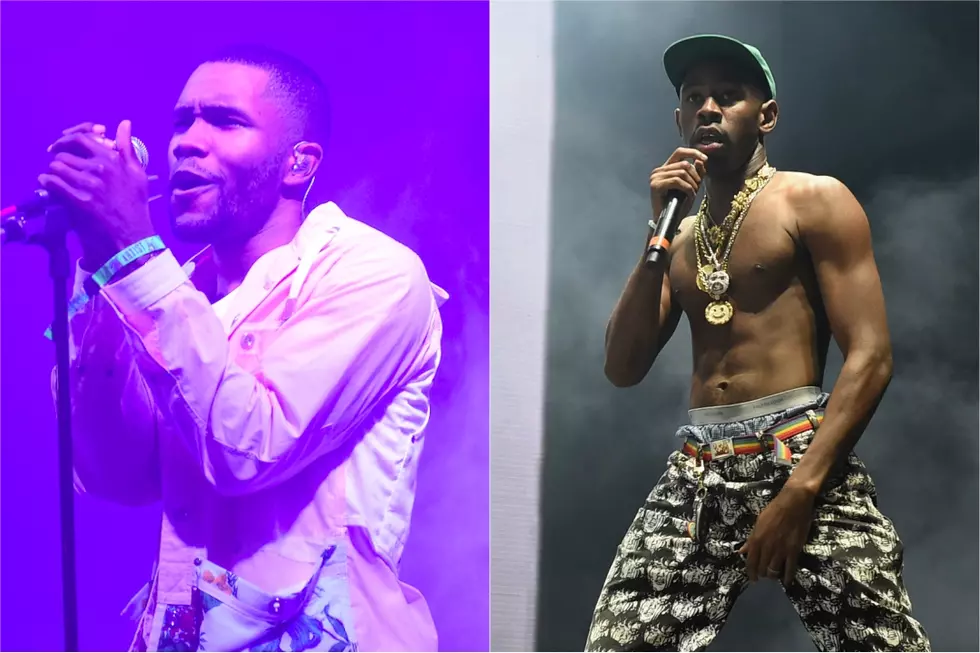 Frank Ocean Celebrates His 30th Birthday at a Party With Tyler, The Creator
Jason Merritt / Kevin Winter, Getty Images (2)
This past weekend, Frank Ocean turned 30 years old, and he threw an epic party to celebrate the occasion. Of course, no Frank birthday party would be complete without an appearance from Tyler, The Creator, the rapper he came into the game with.
For the party, Ocean had what almost looked like a drag fashion show inspired by the iconic Paris Is Burning documentary, as he and Tyler rocked some sparkling outfits and strutted down an aisle with some upbeat music playing in the background. Looks like they had a dope time. SZA was in attendance, while other reports claim Brad Pitt, Aminé and maybe even Adele were also there.
Ocean, who put out two critically acclaimed albums last year, is pretty much living his best life these days. This summer, he went on tour, and he created a visual essay to document large parts of the experience. He shared it last week, along with a personal letter detailing his state of mind at this point in his life.
"You can answer a lot of questions with 'Yes.' But you can answer many more with 'No,'" began Ocean. "No is run-of-the-mill. Yes is a gem. Whenever I feel alone I watch live television, something about it being okay on their end makes it okay on mine. Onstage one in-ear is my mic feed and the other one is a Tim Ferriss podcast. I go long periods without talking but I raise my voice when the people on the phone are in loud places. I've never given my fans nicknames because the ones I think of are embarrassing. I'm world famous. I had peace in my twenties. Big Pharrell praying hands those weren't mutually exclusive. If you want to make your 30s sound appealing just mention 'sexual prime.' Re: the photos... as Karl Lagerfeld would say they 'came to me in a dream.' Summer two thousand and seventeen. We leaned into it. Bananaberry-flavored candies at the bottom of the cup. I'll never know why or what's with campouts for Szechuan sauce at McDonalds. But I'm way into it. Issa Dreamworld. If you liked two thousand and seventeen then you'll love two thousand and eighteen."
Check out videos from Ocean's birthday bash below.
See 21 of Hip-Hop's Biggest First-Week Sales in 2017 (So Far)