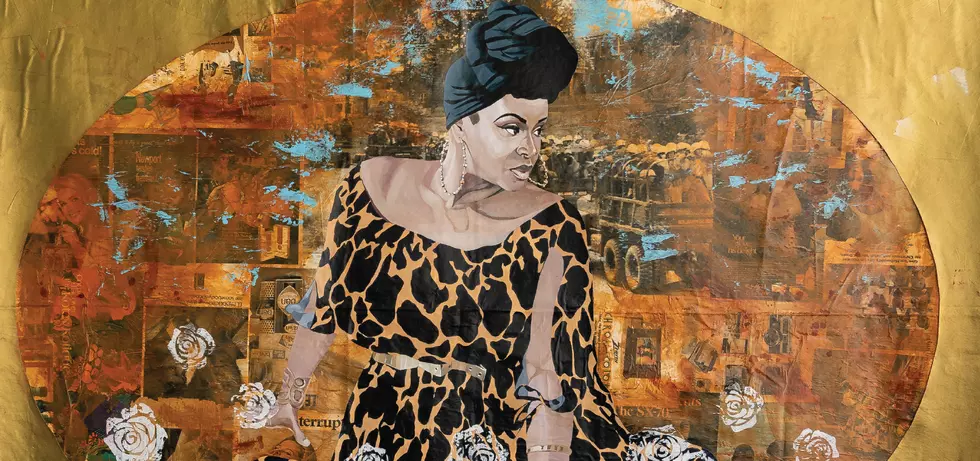 Art Museum Exhibit Explores Blackness Through Portraits of Lafayette People
Paul and Lulu Hilliard University Art Museum
So he recruited models from Lafayette, painted their portraits on paper, and then composed them with collages of newspaper articles and advertisements that were bigoted or misunderstood the African-American experience, according to The Advocate.
"The aspirational, thoughtful body language, rendered with verisimilitude by Shell, stands in stark contrast to the flat, colorless, and stereotype-ridden caricatures of black bodies found in the largely historical sources he uses for his backgrounds," according to the museum website.
The goal, then, is to show that the subjects are not defined by those limited, largely historical newspaper and magazine depictions. Rather, they are true participants in past and present struggles as they pursue and define the American Dream on their own terms.
Shell explained the origins a little more plainly in The Advocate:
"Frustration, pride, a slew of feelings," he said. "The idea of being black at Starbucks and the police are called. Barbecuing and the police are called. How the black body just can't be hanging out. Even black people policing each other, as in mothers telling sons not to dress or behave a certain way. Policing that happens to black folks inside and outside the community."
If you tour the exhibit, watch out for "Not New to This, Tru to This;" it's one of the artist's favorites. Click here for more information about the exhibit and planning a trip to the museum.