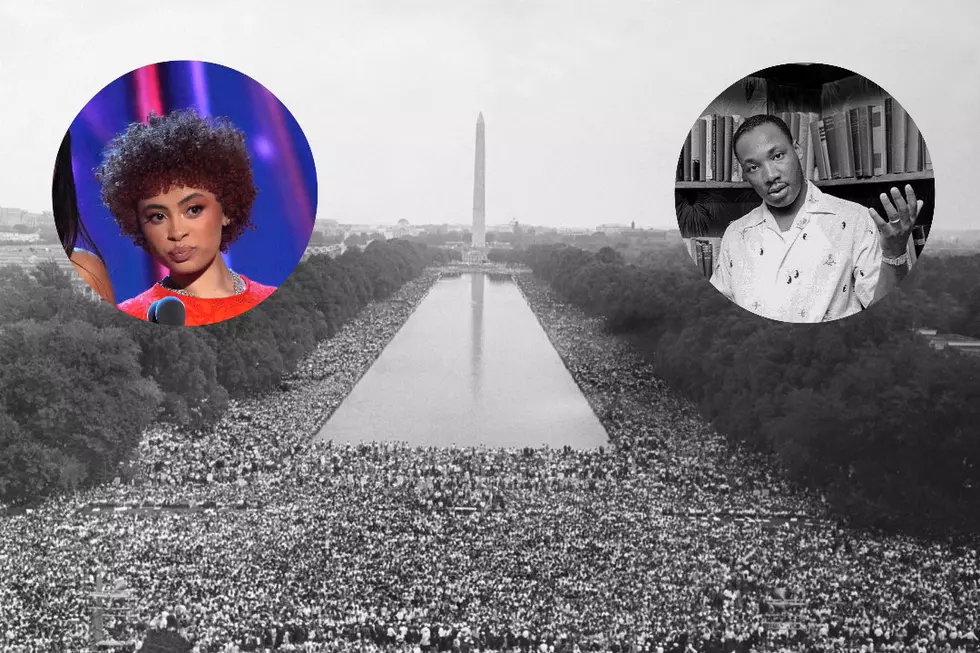 Ice Spice Fans Keep Absurdly Connecting Her to Martin Luther King Jr. in March Memes
Keystone-France/Kevin Mazur/Michael Ochs Archives/Getty Images (2)
Over the past few months, Ice Spice fans have been absurdly connecting the Bronx, N.Y. rapper to civil rights icon Martin Luther King Jr. in memes about the March on Washington.
The odd trend appears to have started back in December of 2022. In one tweet on the topic, a Twitter user posted a photoshopped image of Ice Spice at the 1963 March on Washington where MLK gave his famous "I Have a Dream" speech.
"If the party still segregated then why would I go?" the photo is captioned, semi-quoting a lyric from Ice Spice's "Bikini Bottom."
The Ice Spice-MLK mashup memes and comments immediately drew questions.
"I'm sorry I'm not understanding the analogy and/or the joking comparison between ice spice and Martin Luther King.,,,do I gotta listen to her music to understand? cuz I'm more of a glorilla k carbon type of girl!!!" a Twitter user responded to the trend. 
The strange trend has continued. One meme shows Ice Spice backing it up on MLK at The March along with the caption, "How can I dream when I already drome? Like..."
Yesterday (March 27), another meme went viral showing a black-and-white image of Ice Spice with the caption, "A picture of my great grandma who marched with martin luther king."
While the memes seem to be light-hearted in nature, the world-renowned civil rights leader who was assassinated at the age of 39 on April 4, 1968 is a sensitive topic. Last September, DDG faced backlash for making a joke about Martin Luther King Jr. where the rapper commented that he thought racism was gone because MLK canceled it.
Ice Spice fans have been known to go all out in their support of the rapper. Back in February, a fan ran down and tried to give the rapper a bouquet of flowers outside an afterparty. During Ice's Rolling Loud California set earlier this month, a hysterical fan attempted to jump on stage and was manhandled by event security.
See Ice Spice-Martin Luther King Jr. Memes and Reactions Below
See the Definitive List of Bizarre Tweets From Rappers