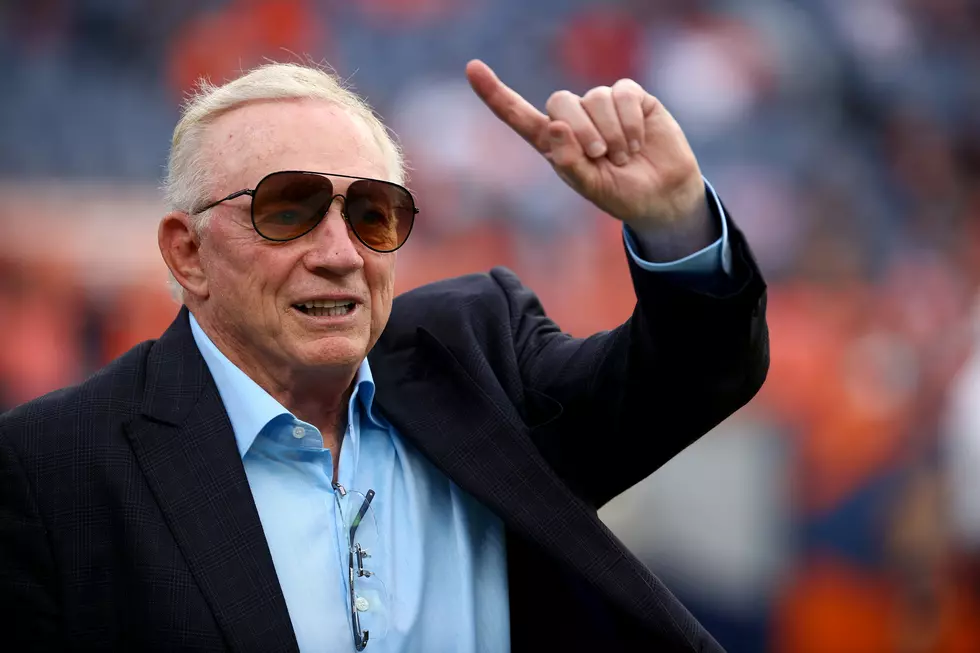 Jerry Jones Coughs Uncontrollably on Radio, Then Asks for Shot of Jack [LISTEN]
Getty Images
This was vintage Jerry.
The owner of the richest sports franchise in the world, Jerry Jones, was on his weekly radio show Tuesday morning when he couldn't stop coughing.
Jones was on 105.3 "The Fan" when the coughing started and it took him a few seconds to get it under control.
Once he did, the owner and General Manager of the Dallas Cowboys jokingly asked for some oxygen, then requested perhaps a shot of JACK!!!
While Jerry is known to enjoy himself, I know that he was joking about the shot of whiskey, but if offered, I doubt that he'd turn it down.
The flu bug has made its way into the Cowboys' locker room in recent weeks, and I certainly hope that it has not reached Jerry.
Check out the moment it all went down on the sports station in Dallas.
If it wasn't an illness that Jerry was dealing with, perhaps he put too much salt on his McGriddle.
This came from HBO's "hard knocks" last year, and it shows Jerry Jones covering his breakfast biscuit with salt.
30 famous people you might not know were college athletes
Stacker
dug deep to find 30 celebrities who were previously college athletes. There are musicians, politicians, actors, writers, and reality TV stars. For some, an athletic career was a real, promising possibility that ultimately faded away due to injury or an alternate calling. Others scrapped their way onto a team and simply played for fun and the love of the sport. Read on to find out if your favorite actor, singer, or politician once sported a university jersey.