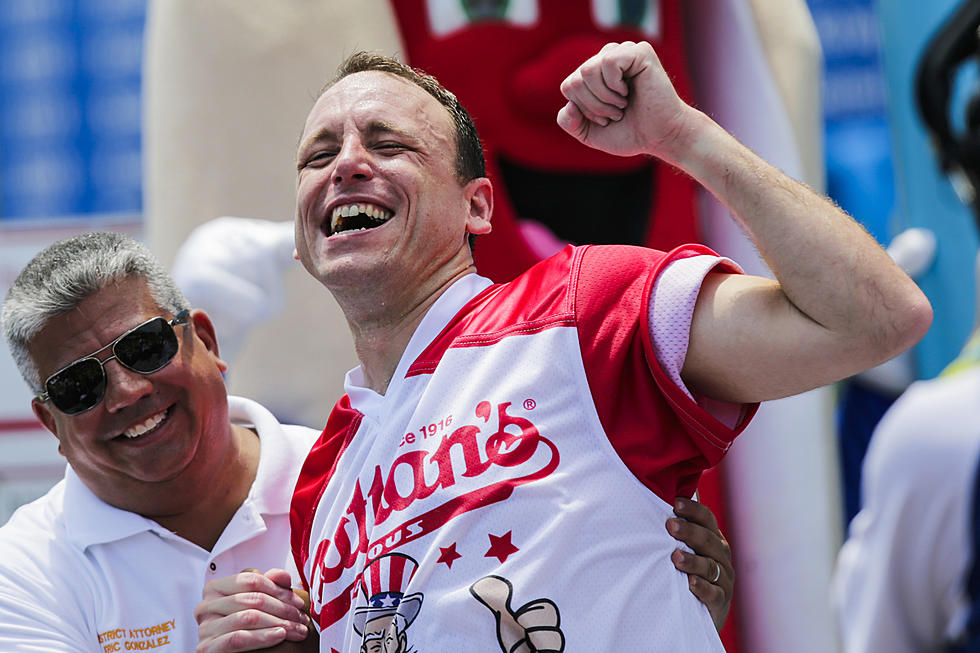 Joey "Jaws" Chestnut Crushes Competition, Claims 16th Title at Nathan's Famous Hot Dog Eating Contest
(Photo by Eduardo Munoz Alvarez/Getty Images)
It's official: Joey Chestnut is (still) a legend.
In an epic display of sheer eating greatness, Joey Chestnut once again emerged as the uncontested champion at the Nathan's Famous Hot Dog Eating Contest, snatching his jaw-dropping 16th crown.
What's crazy is that the contest almost got axed due to some nasty rainstorms, but Chestnut wasn't having any of that. He rallied the other eaters like a true boss and got the whole event back on track.
After hours of waiting out the thunderstorms, the moment finally arrived. Chestnut, with his eyes on breaking his own world record of 76 hot dogs in 10 minutes, stepped up to the plate. And boy, did he deliver. With each bite, he inched closer to glory, leaving spectators and viewers at home in awe and his fellow eaters green with envy (or maybe they were just full of hot dogs).
The rules are as simple as they've always been—down as many Nathan's Famous hot dogs and buns as possible in 10 minutes. Beverages were fair game, and condiments were up for grabs, though most contestants skipped the fancy stuff. It's all dogs in this competition.
As the clock ticked down, Chestnut devoured those wieners like a champ, jumping out at a blistering pace. The crowd roared, the judges sweated, and the scoreboard struggled to keep up. But there was no doubt who was bossing it. Chestnut breezed past the 60-dog mark, leaving his competition in the dust.
When it was all said and done, Chestnut stood victorious once again, basking in the glory of his 16th crown. This dude is a hot dog-eating machine, setting a mind-boggling 55 world records over his illustrious career. He can demolish 141 hard-boiled eggs in eight minutes, which may be even more impressive than the hot dogs.
That's some next-level eating right there.
With his prize money and a truckload of sponsorship deals, Chestnut is raking in the dough. Last year alone, he pocketed over $500,000 and boasts a net worth of over $4 million. Not too shabby for a guy who can chow down hot dogs like there's no tomorrow.
So, there you have it. Joey "Jaws" Chestnut, the undisputed hot dog-eating champ, claimed his 16th crown at the Nathan's Famous Hot Dog Eating Contest. He's a legend in the game, a true gluttonous GOAT.
At age 39, we can only imagine how long we'll continue to see him devouring random food as a professional competitive eater.
Stay hungry, Joey.
LOOK: 20 American foods that raise eyebrows outside of the US
Stac



ker
compiled a list of 20 unusual and uniquely American foods that might raise eyebrows outside the U.S.