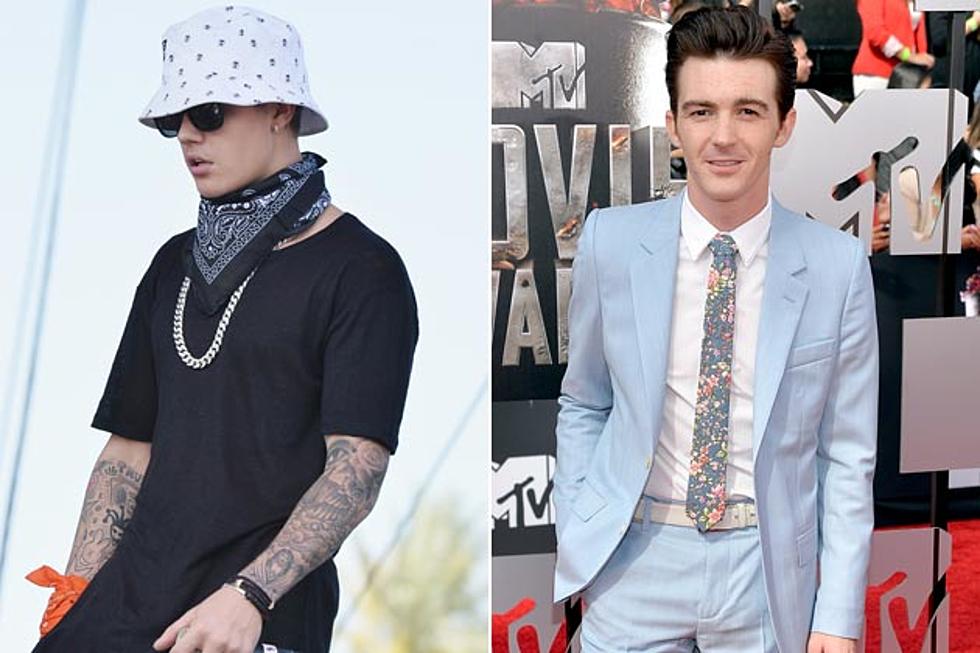 Did Justin Bieber Finally Diss Drake Bell by Crashing His Record Release Party? [VIDEO]
Michael Buckner / Kevin Winter, Getty Images
Justin Bieber and Drake Bell have a bit of a beef, one that exists in the Twitter space. Did The Biebs just pull the ultimate, live and in the flesh chess move response and diss by upstaging Bell at his own party?
The beef between the twosome is pretty one-sided, with Bell firing off insults about Justin's "biebhavior" and then dealing with death threats and tweet heat from Beliebers, or things like outraged fans waiting for him at LAX to ambush him over his digital disses of their hero.
The Biebs, for his part, never responds. He doesn't need to, since his fans come to his rescue. He seemed to be the bigger person in this celeb Twitter feud, just letting it go. Until last night (April 17), when he cruised by Bell's record release party in L.A. His drive-by grabbed lots of attention, taking the spotlight away from Bell on his big night.
Bell's party was taking place at the Grove in Los Angeles. The Biebs drove by, rolling down his window and causing fans to lose their freakin' minds. He filmed it and posted it.
Bieber also posted an Instagram image of Bell looking down at his ride being mobbed by fans, writing: "Why is @justinbieber sprinter van getting more attention than my album release party."
Oh man, feel that scorch?
Le Biebs eventually took that down, but of course, nothing every really dies on the Internet. TMZ posted the image, which you can see here.
Bell tweeted to Bieber about coming to the event, in what appears to be very conciliatory way. On the surface.
He said he would have totally gotten The Biebs in, although, we're pretty sure JB can waltz into any event he wants in Hollywood without requiring assistance. Unless, of course, he was previously banned.
Is there a tinge of sarcasm in these Bell tweets? It seems like Bell is intimating that The Biebs was turned away and Bell would have had the power to get him. His comment about seeing The Biebs drive away could have been his response to the deleted photo, too.
Is this a you-know-what contest? Could be...
And it just doesn't seem like The Biebs' actions were bro-like, either. He probably wasn't going to the party to have a handshake and a "let's bury the hatchet" convo with Bell. He was probably proving a point and you know what they say about paybacks.
Below are Bell's tweets. Maybe he should have DM'ed the singer. Or maybe the point was to reply publicly.