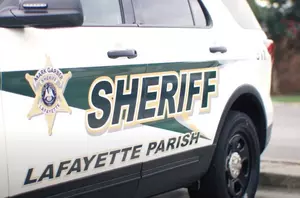 Lafayette Parish Sheriff's Office Responds to Woman Dressed in All Black in Roadway
Lafayette Parish Sheriff's Office via YouTube
This is something you'd expect to see in a horror film.
The Lafayette Parish Sheriff's Office responded to a call on Saturday night after several people reported a woman standing in the roadway, while dressed in all black.
It was a very foggy night as the woman stood in the roadway at the 2400 block of Riceland Road.
Several drivers report that they had to swerve off the roadway to avoid hitting the woman and when deputies arrived they were able to locate the woman dressed in all black.
According to Sheriff's Office Spokesperson Valerie Ponsetti, the woman was taken to a local hospital for observations.
An eyewitness to this very bizarre incident told KLFY-TV 10 that she nearly hit the woman, but swerved just in time to avoid her, but ended up in a nearby ditch.
The driver would go on to tell the television station that her daughter was with her when this happened and that her daughter is still having nightmares after this incident.
We're just glad that deputies got to this woman before she was injured and that she got the help she may have needed.
10 Must-Drive Roads in Acadiana