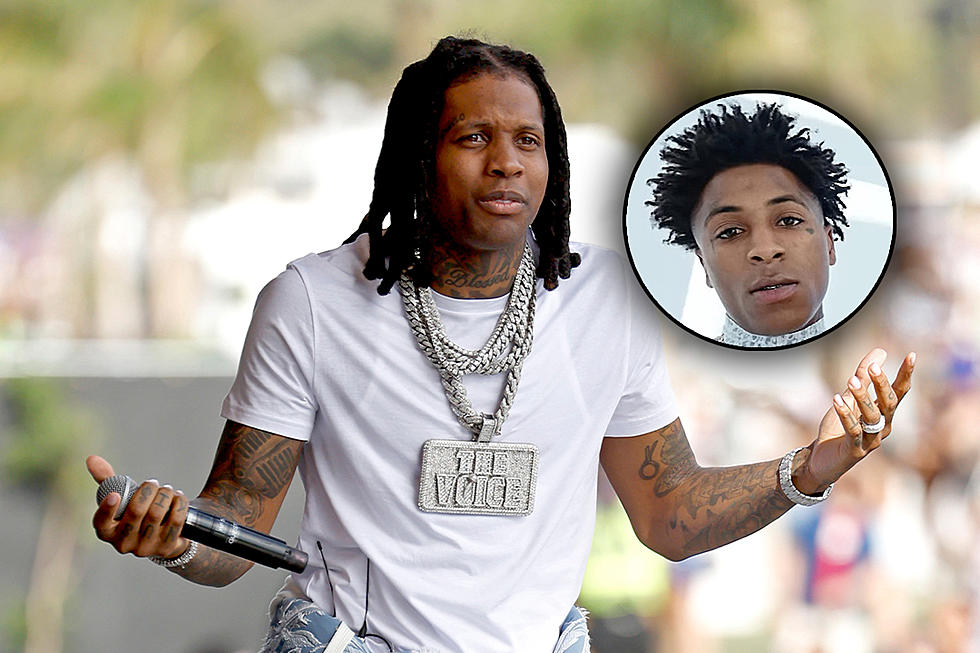 Lil Durk Tweets He Doesn't Know Nothing, Doesn't See Anything After YoungBoy Never Broke Again Disses
Frazer Harrison/Getty Images/Mike Will/YouTube
Lil Durk is playing it close to the vest following the scathing disses sent his way by YoungBoy Never Broke Again. The Chicago rapper says he doesn't know nothing and doesn't see anything.
On Monday night (May 8), Lil Durk hit up Twitter after discovering that his name became a trending topic as the result of some direct shots from his longtime foe, NBA YoungBoy. After YB called Durk a "b***h" in an intense tirade of tweets that included negative references to the mother of Lil Durk's child and accusations of clout chasing, the "Laugh Now Cry Later" spitter seems to be taking an apathetic approach to the situation.
"IDK nun, I ain't seen nun," Lil Durk simply tweeted about 45 minutes after YoungBoy Never Broke Again popped off at him.
The Chi-Town native immediately followed that up with a screenshot of his name in the trending tab along with the caption, "Trending every day."
Lil Durk's nonchalant tweets and the acknowledgment that he became a trending topic on Monday come directly on the heels of NBA YoungBoy declaring that at least in his opinion, there's still plenty of beef between him and the OTF rhymer. YB pulled no punches bringing the social media smoke to Durk, DJ Akademiks and Durk's former love interest, India Royale.
"@lildurk you a b***h & yo nasty a*s h*e and it's shown and @Akademiks you a pure Fat h*e who mouth gone be the reason. you from now on ('invalid')," NBA YoungBoy tweeted. "@lildurk lol you ever realized you only get a buzz when one of your friends die. Think about it scary bum b***h you know I ain't lying ha ha #fact."
He added: "@indiaroyaltyy tell that pu**y b***h he bet not drop he ain't thang 'pretty lady.' @Akademiks you steady talking bout sales b***h I'm paid you can't manipulate me clown you embarrassing yourself. Simple fact: i can't be f***ed with that's why I'm dropping 'cause all you n***as h**s and I'm better.'"
While Lil Durk is seemingly taking the high road, DJ Akademiks had no issue responding to YoungBoy's shots fired.
"Lol I never thought I see the day my homie diss me cuz his sales low," Ak tweeted on Monday. "This rap game is the devil lol. Youngboy I forgive u man. We can get them sales up otherwise …… lol. But ok. Capitol Records I blame u for this.. y'all pressuring YB to get some sales he doing anything. Get my boy off house arrest tho."
The hip-hop blogger continued: "YB the last rapper I thought would ever do some shit for sales. But damn. Go buy his album it drops Friday…. He's tryna outsell Lil Durk. I still love him tho. Buy his project...LOL... we in a simulation.. my Dawg YB dissed me cuz he think Durk finna outsell him...welp tune in."
Just last week, it appeared as though all was good in the hood between Lil Durk and YoungBoy Never Broke Again as DJ Akademiks himself reported that the two opps had squashed their heated rivalry. Things took a turn for the contrary from there, though, when NBA YoungBoy alluded to the ongoing beef in his announcement that his forthcoming Richest Opp mixtape would drop on the same day as Lil Durk's new album, Almost Healed.
See Wild Rap Beefs That'll Probably Never Be Resolved
Pusha-T and Drake, YG and 6ix9ine, and more.