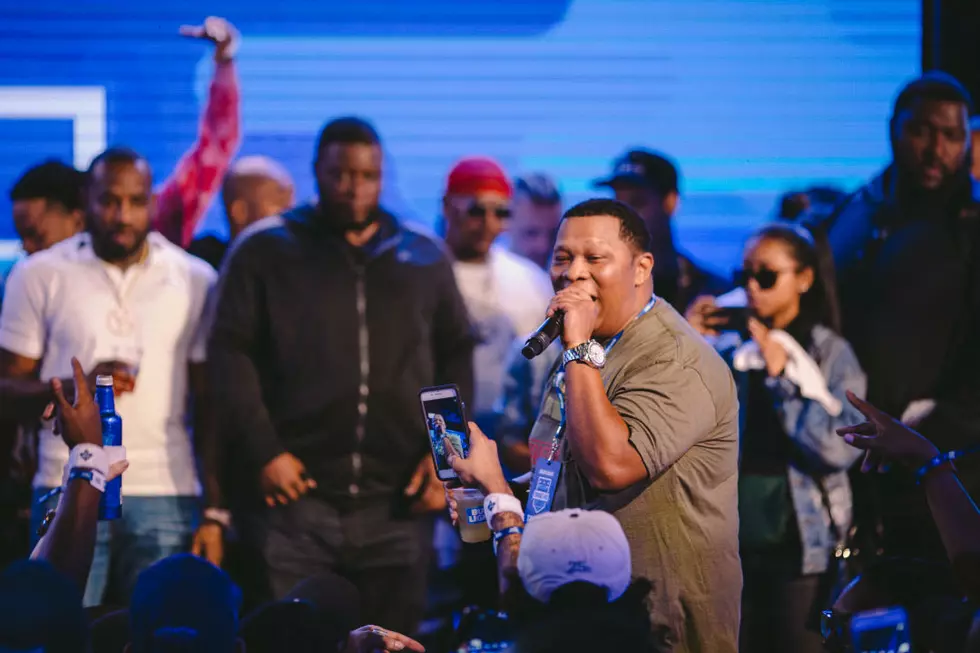 Mannie Fresh Encourages Younger Artists to Do Their Hip-Hop Homework
Patrick Melon
Last weekend, hip-hop's finest were in New Orleans for more than a few star-studded events tying into the NBA All-Star Weekend. Bud Light invaded the Big Easy for the three-day celebration to hold a series of concerts and panels centered around their "Famous Among Friends" campaign.
One of the standout shows from Bud Light's HQ concert series came from New Orleans-based duo Big Tymers, who reunited in New Orleans for the first time in several years. Birdman and Mannie Fresh performed in front of a packed crowd, hitting the stage along with members of the Cash Money Record label. The rap duo took a trip down memory lane as they performed classic cuts from albums like Hood Rich, I Got That Work and Big Money Heavyweight.
With the Big Tymers closing out the Bud Light concert series on Saturday night (Feb. 18), Mannie Fresh took on another role shortly after his performance with Birdman, getting on the 1s and 2s to spin classic records from the N.O. He thanked the crowd for the love and support over the years and closed out his set by spinning records from Cash Money's extensive catalog.
XXL caught up with the legendary producer in New Orleans right after his memorable performance to talk his reunion with Baby, the Cash Money legacy and more.
XXL: How did it feel to reunite with Birdman onstage? And tell me about your current relationship with him.
Mannie Fresh: We was always cool. You know we had our disagreements on shit, but real talk, like New Orleans cats are like this, when something happens we come together. Like if a real-life event were to happen, they've always been there just like I've always been there. We've had our differences or whatever, but we've remained family through all of that. So it wasn't weird for me to reunite with Birdman, it just feel like it's right because people feel like, "Oh, this is monumental," to a lot of people because they missed out on that era of music, so it's beautiful because I'm still getting it.
Now that you reunited with Birdman as the Big Tymers, will we ever see the Hot Boys reunite?
Hell yeah! Bro, without BG and without Turk it ain't real, you know what I'm saying? Unfortunately, B.G. is in jail but what I'm hearing is that he's coming home soon and if you follow me, you know I always rep him because that's my dude. I think we will reunite because the world misses that era of what the hell we did. I guess it was the fingerprint for a lot of people on what's really going on now. So I'm looking forward to reuniting with my guys again.
In hip-hop nowadays, there's a big disconnect between the younger artists and the older artists. Do you feel like the young artists are not paying homage to the elders of hip-hop?
The first thing is this, young artists, that's all we want them to do is pay homage of where you got it from and I promise you them dudes will embrace you. Like don't have the "fuck you attitude," you know what I'm saying? Like if you embrace where it came from, they will embrace y'all. I love what's going on right now because you have to accept it. Like I had my wild times and now it's someone else's time.
Hip-hop is this, you just want to know that y'all know where it came from. Just do your homework and I promise you you will get the respect you want from older artists. Like that's all they want. They just want to know where you got that hook or the beat pattern from, and trust me, they'll give you the respect.
40 Hip-Hop Albums Turning 20 in 2017