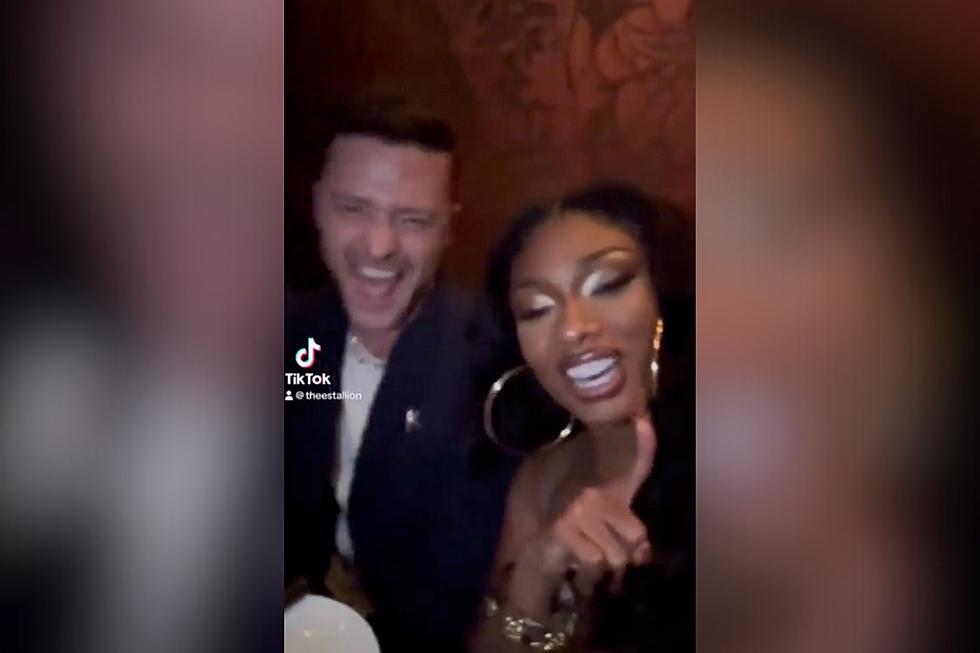 UPDATE: Megan Thee Stallion Posts New Video with Justin Timberlake After 2023 MTV VMAs
TikTok, @theestallion
A moment that appeared to be fraught with tension between Megan Thee Stallion and Justin Timberlake backstage at the 2023 MTV Video Music Awards has fans buzzing—but not for the reasons you might think. The incident, caught on a livestream camera, unfolded at the Prudential Center in Newark, New Jersey, last night (Sept. 12) and has since taken social media by storm.
UPDATE:
Megan Thee Stallion posted a TikTok clearing up any confusion, as she was all smiles with Justin Timberlake after a backstage moment between the two superstars that was rumored to be "tense." While we can't hear what they are saying, it is clear that they are having quite the time in each other's company.
See more here at XXL Magazine.
ORIGINAL STORY:
In the now-viral clip, Timberlake approaches Megan while she's in the middle of getting a quick hair touch-up from her glam squad. Megan's subsequent animated gestures—shaking and pointing a well-manicured finger at Timberlake as he continued to walk—gave viewers the impression that the two stars were at odds. Joey Fatone of *NSYNC fame can even be seen chuckling at the scene, further fueling speculation.
However, a source close to the situation told Variety that what looked like a squabble was actually far from it. According to the insider, Timberlake was simply greeting Megan, saying, "It's so nice to meet you." Megan's response? "No, no this don't count, this don't count. We gotta meet proper." The source characterized their interaction as "very cute" and emphasized there was "zero fight" involved.
The backstage buzz wasn't the only reason Timberlake and his *NSYNC bandmates were in the spotlight. They had the honor of presenting the Best Pop award to Taylor Swift for her song "Anti-Hero." Rumors are also swirling that the iconic boy band might reunite for the third film in DreamWorks' Trolls series, aptly titled "Trolls Band Together." In a preview trailer for the movie, the *NSYNC classic "I Want You Back" is featured, hinting at a nostalgic comeback.
*NSYNC last performed together a decade ago at the 2013 VMAs, delivering a medley of their greatest hits to celebrate Timberlake receiving the Video Vanguard award. Since then, all members except Timberlake came together to join Ariana Grande on stage at Coachella in 2019.
So while it might have seemed like drama was brewing, it turns out the "Savage" rapper and the "Cry Me A River" singer were merely engaging in some friendly banter. And isn't that what award shows are all about—unexpected moments that get everyone talking?
See more on this MTV VMA moment here via PopCrush.
LOOK: The most famous actress born the same year as you
Many of the actresses in this story not only made a name for themselves through their collection of iconic performances, but also through the selfless, philanthropic nature with which many of them approached their stardom. In an age of flipping the script on societal norms, many of these actresses are using their voices and platforms to be advocates for those who are otherwise unheard.