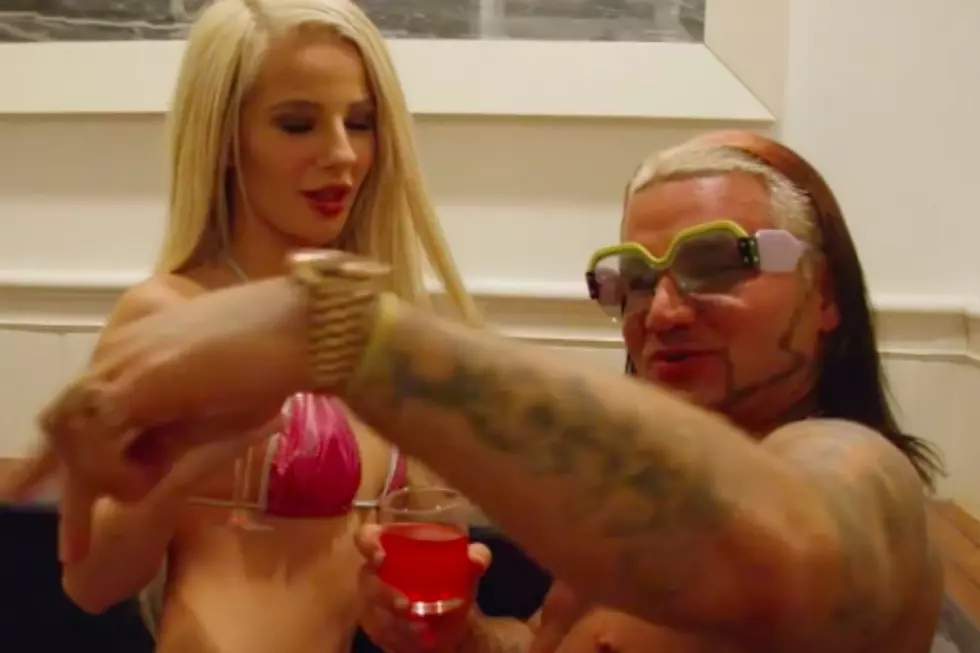 Riff Raff Teams Up With Slim Jxmmi for "Tip Toe 2″ Video Featuring Porn Star Bella Elise Rose
WORLDSTARHIPHOP via YouTube
As colorfully eccentric as the guy who created it, the video for "Tip Toe 2" finds RiFF RAFF rocking some fresh J's with a cowboy hat as he tiptoes into the middle of nowhere with a sledgehammer. There's plenty of artificial lightning flashing across the sky, too. When he's not doing that, he's eating ramen out of his shoes, parking lot pimpin' with a shirtless Slim Jxmmi or posting up with porn star Bella Elise Rose in the hot tub.
If you recall, RiFF RAFF was recently caught on tape having sex with Rose, whom he showed up in a new webcam series with about two months ago. Looks like we can expect to be seeing more of the two on camera in the future. All in all, it looks like RiFF RAFF had himself a good ass time.
His bars on "Tip Toe 2" are also pretty wild. "Bought a house on Lake Superior, I'm banked in Wisconsin/Kicked outta seventh grade, cocaine on my tonsils/Went to school to see girls and dressed fly/I said I was sober/Lie detectors determined that was a lie/Used to pop lockers while y'all was at lunch/Used to hide the vodka in my green Hawaiian Punch," he spits on the track, taking us to his days as a school boy.
Check out the Nick Tro Jackson Vuitton-directed "Tip Toe 2" video below.
See 21 of Hip-Hop's Biggest First-Week Sales in 2017 (So Far)